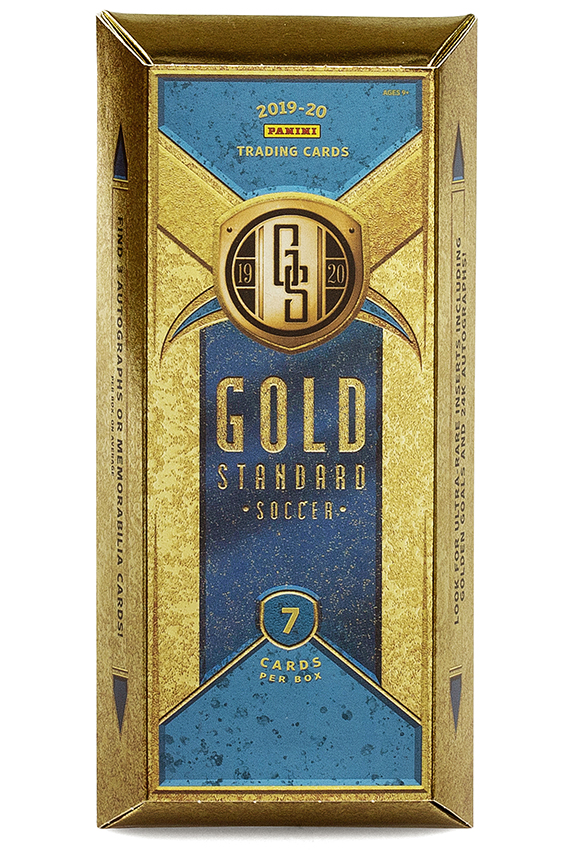 Panini America's fabled, gilded Gold Standard brand has received a hero's welcome in every sport it's entered — starting with basketball before making a winning transition to football and then as a Chronicles inclusion in baseball. On Friday, it makes its debut on the pitch for the first time as a standalone product . . . and it's going to be golden.
On average, each hobby box of 2019-20 Gold Standard Soccer (seven cards per box, 12 boxes per case) will deliver three autograph or memorabilia cards, one base card, one parallel and two inserts. Headlining elements in the debut include hard-signed Gold Strike Autographs featuring the likes of Lionel Messi, Harry Kane and more, short-printed Etched autograph inserts (Golden Goals, Golden Duals and 14K Autographs) and spectacular 1/1 memorabilia inserts in the Bullion Brand and Mother Lode chases.
In the must-see Quality Control Gallery that follows, we offer a deep dive into the product. Enjoy the sneak peek and stay tuned to The Knight's Lance for additional coverage.
2019-20 Gold Standard Soccer will be available at the official online store of Panini America beginning Friday at 12 p.m. CST.