PANINI AMERICA INTRODUCES NEW PAINT SCHEME FOR UPCOMING XFINITY RACES FOR GAULDING/SS GREENLIGHT #08 CHEVROLET CAMARO STARTING WITH LAS VEGAS
New Panini America Paint Scheme Will Promote It's NFT Blockchain Platform In Panini's Popular Color Blast Design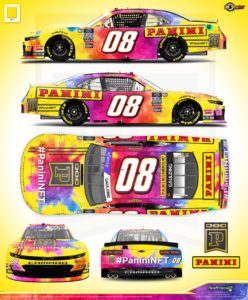 Fort Worth, TX. (March 1, 2023) – Panini America, the exclusive trading card partner of NASCAR, unveiled a new paint scheme for the SS Greenlight Racing/Gray Gaulding #08 Chevrolet Camaro that will debut at Las Vegas Motor Speedway for the Xfinity Series – Alsco Uniforms 300 this Saturday, March 4.
The new paint scheme features Panini's popular Color Blast design, which has been featured in Panini's PRIZM NASCAR trading card product as well as across other sports. The design will also promote Panini's NFT Blockchain platform, a top 10 blockchain platform behind other blockchain's including Ethereum, Solana and Polygon. The paint scheme will still carry the colors of Panini's traditional paint scheme which has been used in the Xfinity Series since 2019.
To mark, and celebrate the Panini NFT car, Panini will be releasing a free #08 Panini NFT Color Blast Car NFT for all users to claim for 48 hours, starting when the green flag drops in Las Vegas and for those who register for an account on the Panini Blockchain platform at https://www.paniniamerica.net/blockchain prior to the start of the race on Saturday, March 4.  Panini's Blockchain platform allows sports fans to collect digital trading card NFTs in U.S. dollars across multiple sports and around Panini's most popular trading card brands.
"When we renewed the partnership with Gray Gaulding and SS Greenlight Racing, we were aligned that we would keep being innovative with the #08 car, like we did with paint scheme that highlighted Panini's Donruss trading card brand and Kansas City Chiefs Quarterback Patrick Mahomes on the hood in 2019 before he ever was a Super Bowl MVP," said Jason Howarth, Vice President of Marketing at Panini America.
Gray Gaulding and SS Greenlight Racing kicked off their renewed sponsorship with a strong Top 20 finish at Daytona International Speedway to start the season.
"When I saw the new paint scheme, I loved the look and was excited to share the new Panini NFT Color Blast design with race fans," said Gray Gaulding. "Color Blast has become such a popular trading card design that fans of all sports identify with it.  To showcase it around Panini's NFT Blockchain platform in a unique way is really cool. I can't wait to get this car on the track!" added Gaulding.
About Panini America
The Panini Group, established over 60 years ago in Modena, Italy, has subsidiaries throughout Europe, Latin America and the United States.  Panini is the world leader in officially licensed collectibles and is the most significant publisher of collectibles in the U.S., with official licenses for NASCAR, NFL, NFLPA, NBA, NBPA, FIFA, UFC, WWE, College, Disney and other key properties from many other licensors. Panini is also the exclusive trading card and sticker partner of the Pro Football Hall of Fame, Naismith Memorial Basketball Hall of Fame, Elite 11 and Pop Warner Little Scholars, Inc.
Panini has distribution channels in more than 150 countries and employs a staff of over 1,200. For more information visit us at www.paniniamerica.net, www.paninigroup.com or http://blog.paniniamerica.net/. You can also follow Panini America on social media platforms Facebook, Twitter, YouTube and Instagram.
About SS GreenLight Racing
As one of the most tenured teams in all of NASCAR, SS GreenLight Racing has been a development hub for drivers looking to climb the ranks. Led by owner Bobby Dotter, the team has fielded entries in either the NASCAR Craftsman Truck Series or NASCAR Xfinity Series competition since 2001. Since entering the NASCAR Xfinity Series in 2014, SS GreenLight Racing has made more than 350 starts. The Mooresville, NC based team has collected one win (Fontana 2022), eight top-fives, and 23 top-10 finishes in those starts. For more information, visit ssgreenlight.com.
About SMG
Standout Management Group is a sports and entertainment talent management and activation agency headquartered at Texas Motor Speedway in Fort Worth, Texas. SMG is considered as an "outside the box" agency that works with brand partners and celebrities to help brands "stand out" from the rest by leveraging motorsports, music and other professional sports platforms. Additionally, SMG uses advanced technology solutions and data capture methods to maximize activation results.  For more information, visit www.standoutmg.com.