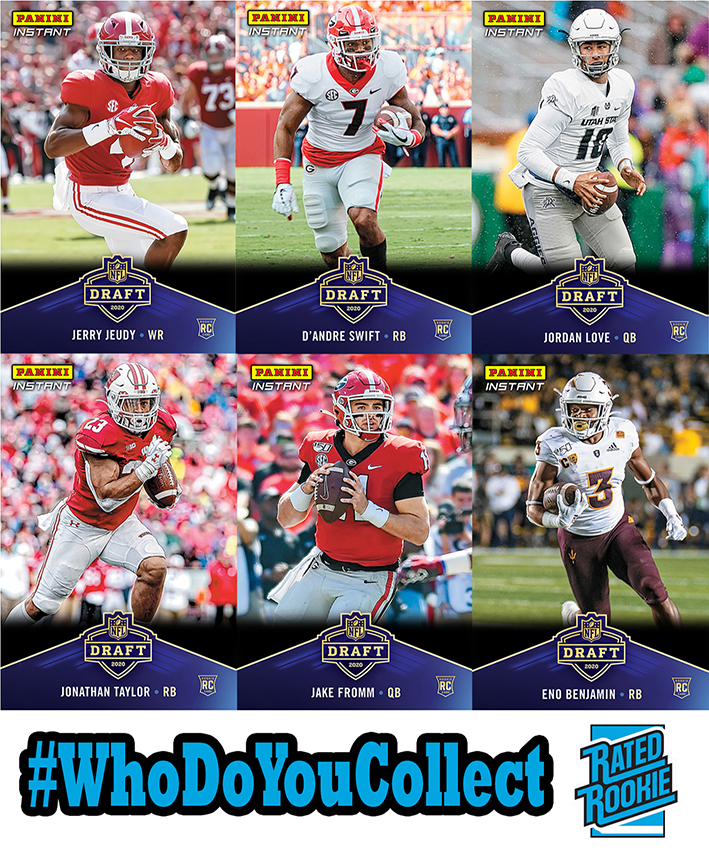 What promises to be the most unique NFL Draft in league history kicks off later tonight with the top prospects spread throughout the country and NFL Commissioner Roger Goodell announcing selections from . . . his basement. Without question, the 2020 NFL Draft will be unlike any we've ever seen — and Panini America has prepared to integrate itself and its trading cards into the conversation unlike never before.
So in order to make sure you're properly prepared for what absolutely will be a night — and a Draft — to remember, we thought it made sense to bring you up to speed on everything Panini America has planned. Panini America's road to the 2020 NFL Draft actually began several weeks ago with "Road to the Rated Rookie" — a unique docuseries that takes viewers behind the scenes with five players during this most unorthodox draft season.
The five players profiled — Utah State quarterback Jordan Love, Alabama receiver Jerry Jeudy, Georgia running back D'Andre Swift, Arizona State running back Eno Benjamin and Liberty University receiver Antonio Gandy-Golden — will each be featured in three episodes. All five first episodes have been released on the players' respective Twitter handles. Episode two will follow each player's unique NFL Draft experience. Check out the series in the links below.
Rated Rookie Rewind
Earlier this week we unveiled the first of our new Rated Rookie Rewind video shorts featuring some top stars from NFL Drafts of the recent pass. We kicked the series off with Seattle Seahawks receiver DK Metcalf. Keep an eye out on our social media feeds as we release others.
Finally! #RatedRookie Gets Its Own Twitter Emoji
Astute Twitter users may have noticed this on Wednesday, but just in time for Draft Day, #RatedRookie has its own custom Twitter emoji. In fact, the new #RatedRookie emoji will automatically appear with these other hashtags, too: #PaniniAmerica, #PaniniInstant, #WhoDoYouCollect and #MyDraftMoment.
Twitter Live on Draft Night
Panini America has partnered with 15 top Draft prospects — including Justin Herbert, Jordan Love, Jonathan Taylor, D'Andre Swift, Jerry Jeudy, CeeDee Lamb and more — and will have a presence at home with those players during their dream-come-true moments. Stay tuned to those players Twitter feeds as all will take to Twitter Live just minutes after their names are called to address fans through video.
Panini America + SportsManias = Irresistible Emojis
Panini America has partnered with fellow NFLPA licensee SportsManias for a delightful collaboration that has created what promises to be some of the most popular and entertaining emojis, stickers and GIFs in the social media universe. The partnership features a dedicated Panini keyboard featuring, among other things, 32 player animations that will transition from college uniform to NFL uniform on a 2020 Donruss Football Rated Rookie card design. The emojis, stickers and GIFs are already integrated into several social media platforms (Twitter, Instagram, TikTok, Facebook, Snapchat) and are discoverable by searching a player's name or "Panini."
Users can download the SportsManias app now and can easily access the special Panini keyboard.
Drafted One Minute, Rookie Cards the Next
As has become a Draft Night tradition, Panini Instant will once again be creating the first Rookie Cards featuring NFL team logos in real-time for 32 of the top draft picks through the Panini Instant platform. The cards are available to purchase now and will be updated with new NFL team logos just minutes after the players are selected.