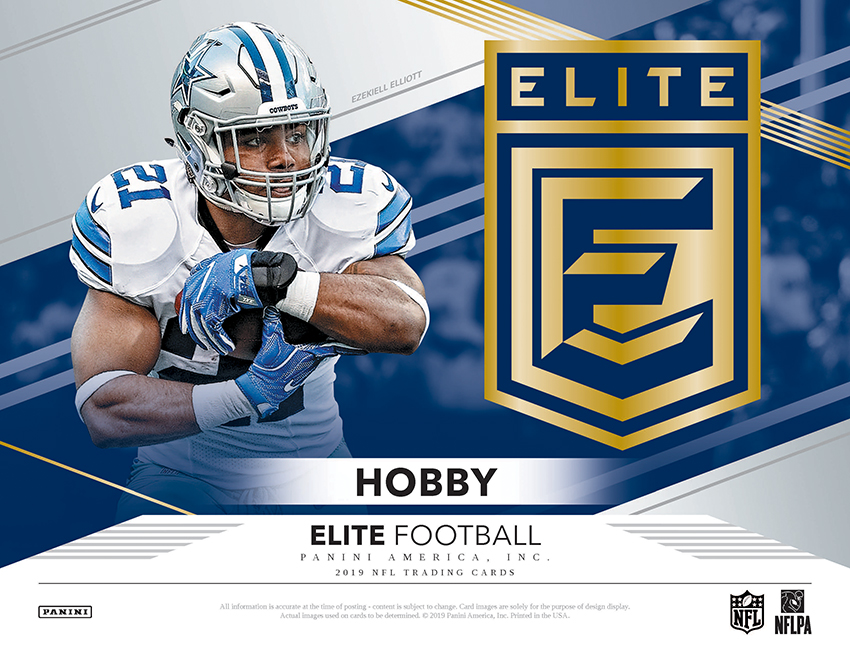 It says something about the staying power of a brand when it can last for more than 20 years as a viable, vibrant staple on the football card landscape. But that's exactly what the venerable Elite Football franchise has accomplished. To be sure, it's come a long way since debuting in 1996 as a "limited" insert numbered to "just" 10,000. Today, the product is a fixture for football fans and collectors seeking their new-season fix in the heat of the summer.
For the 2019 Elite Football release, Panini America officials are injecting the product with a delicious dose of history (the 100-card 1999 Elite insert), an abundance of new (the first trading cards featuring new rookies in their NFL uniforms) and a little bit of everything in between.
Release Date: June 26, 2019
Product Configuration: Five cards per pack, 20 packs per box, 12 boxes per case.
Box Break: Two autographs, one memorabilia card, six parallels and three Rookie Cards per box, on average.
One of the highlights of the calendar is back again with new inserts, new designs and all of the top rookies from the 2019 NFL Draft.
Chase all of the new NFL Rookie Cards, featuring players in their professional uniforms for the first time.
The always-popular Pen Pals and Pen Pals Duals will feature on-card autographs of the top rookies with Black, Blue, Green and Red variations.
Collect the entire 100-card 1999 Elite set. With 50 NFL rookies and 50 veteran/retired players, this throwback design will be a must-have for collectors.
Look for Turn of the Century Autographs from the top rookies of the 2019 NFL Draft Class all numbered to 199 or less.
The 2018 rookies featured in the preview gallery below are intended to show what 2019 rookie designs will look like.
All information is accurate at the time of posting – content is subject to change and approval. Card images are solely for the purpose of design display. Actual images used on cards to be determined.
Here's the product PIS document: 2019_Elite_FB_HOBBY