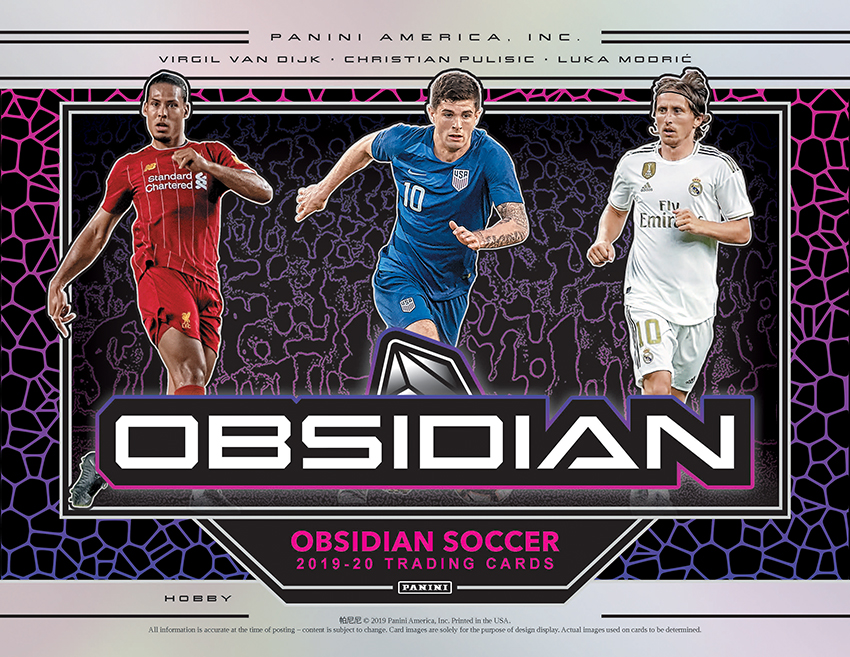 Panini America officials recently sent out preliminary Product Information Solicitations for a handful of exciting new products coming soon enough to a hobby shop or online retailer near you and, over the course of the next few days, we're sharing that same information with you here on The Knight's Lance, continuing now with 2019-20 Obsidian Soccer.
For each new product, we'll showcase a must-see bevy of preliminary images as well as the PIS document. Enjoy the sneak peek and stay tuned for additional details.
Release Date: November 20, 2019
Product Configuration: Seven cards per box, 12 boxes per case.
BREAK: Four autograph or memorabilia cards, one base or Rookie Card, one insert or parallel and one base/Rookie Card/Contra parallel per hobby box, on average.
The inaugural edition of Obsidian Soccer features Panini America's enchanting Optichrome printing technology with the black twist that has made Obsidian popular across all sports.
Obsidian Soccer offers three types of autograph/memorabilia cards to collect: Jersey Autographs, Dual Jersey Ink and Matrix Material Autos. All of these cards are numbered to 99 or less and there are five parallel versions of each set to chase.
The autograph cards in Obsidian Soccer are some of the sharpest-looking in the hobby. Look for Lightning Strike, Aurora Autos and Obsidian Autos along with their six parallel versions.
Enjoy the preview gallery that follows and stay tuned for additional information.
The PIS document for 2019-20 Obsidian Soccer is available here.
All information is accurate at the time of posting – content is subject to change and approval. Card images are solely for the purpose of design display. Actual images used on cards to be determined.