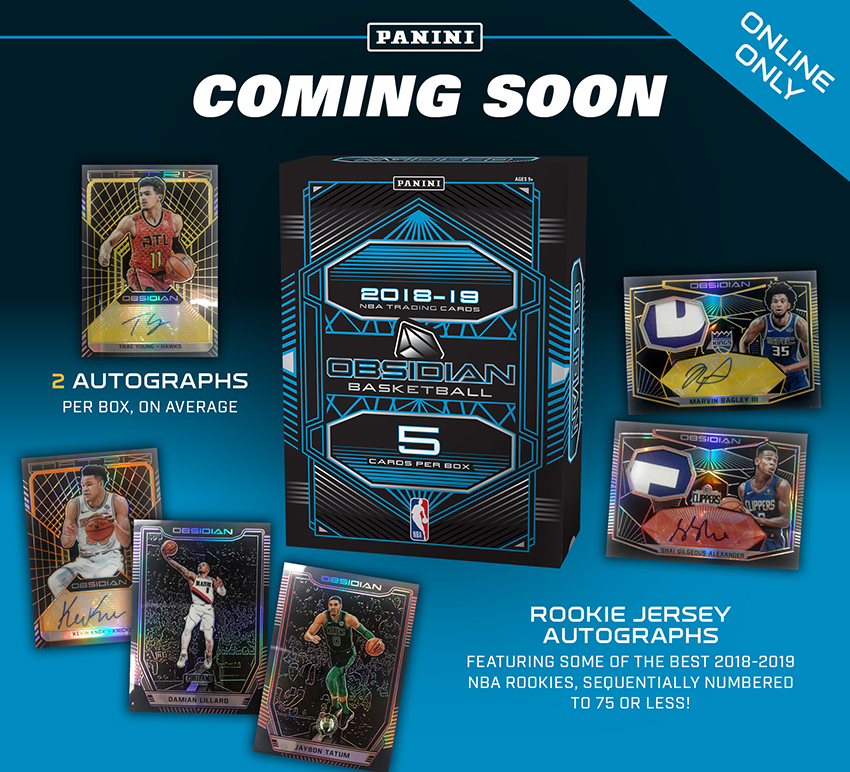 Panini America introduced the Obsidian brand to NFL fans and collectors last year the only way a brand like Obsidian can be introduced: Boldly. The newest iteration of the company's popular Optichrome technology, Obsidian Football bucked the traditional Prizm blueprint by introducing a black base design fused with neon highlights. It was new. It was different. And it was an instant success.
Now, Panini America officials are bringing Obsidian to the NBA — and they're bringing it directly to consumers through iCollectPanini.com. Set to launch Thursday at 10 a.m. CST, the online-exclusive 2018-19 Obsidian Basketball is just as sharp and just as edgy as its football counterpart; it's also just as loaded with content. On average, each hobby box (five cards per box, 12 boxes per case) will deliver two autographs, two parallel or insert cards and one base or Rookie Card.
Highlights of the product are many and include . . .
The stunning Electric Etch parallels that created such a stir in football are featured throughout the product for all base cards, Rookie Cards and autographs (all numbered to 49 or less).
Rookie Jersey Autographs featuring some of the hottest 2018-19 NBA rookies and all numbered to 75 or less.
The rare Vitreous insert that showcases 10 of the NBA's top past, present and future stars.
The Galaxy autograph chase showcases the game's biggest superstars and greatest legends.
We'll have much more on this exciting release in the coming days right here on The Knight's Lance. The product goes live Thursday exclusively on iCollectPanini.com. Until then, check out this must-see preview gallery.