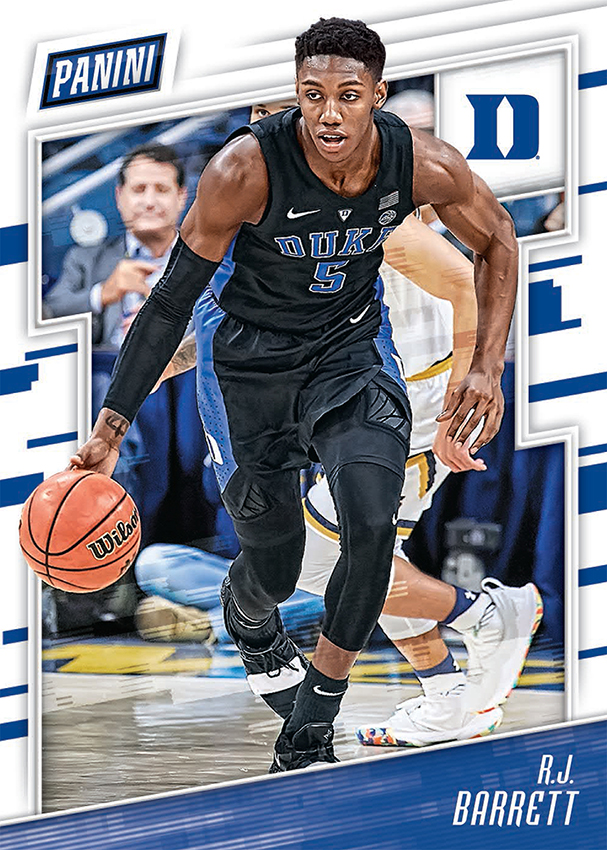 Panini America, the world's largest licensed sports and entertainment collectibles company and the exclusive trading card manufacturer of the NBA, NBA Players and college basketball, announced today that it has reached an exclusive trading card agreement with former Duke University forward and 2019 consensus First Team All-American RJ Barrett. The Canadian native's first officially licensed trading cards and autographs will drop this summer in Panini America's 2019 Contenders Draft Picks Basketball. His first officially licensed NBA trading cards and autographs will release in October with the arrival of the iconic 2019-20 NBA Hoops Basketball product.
In addition, Panini America will utilize its real-time Panini Instant platform to launch a limited-edition trading card just minutes after Barrett is selected early in the 2019 NBA Draft in June.
"With an athlete like RJ Barrett we were determined to target an initial partnership with a group who recognizes how special he is," said Robert Kinnard, Executive Director of Global Marketing for BDA Sports. "Panini is a giant in the trading card and memorabilia industry and it is satisfying to see their shared vision as evidenced by their commitment to the influence RJ's brand will have on the marketplace."
"The 2019 NBA Draft is shaping up to be one of the biggest in the history of the league and RJ's presence is one of the major reasons why," said Panini America CEO Mark Warsop. "He was a standout performer on a star-studded Duke team who averaged more than 22 points per game. His offensive prowess and style of play make him an instant attraction for fans and collectors. We're excited to be able to create unique trading cards for them to collect."
"I've grown up around the professional game and learned early the impact an athlete can have on and off the court," Barrett said. "I want to be a player fans can connect with and follow throughout my career and I know working with Panini helps me accomplish that goal."
During his only season at Duke, Barrett earned First Team All-American and First Team All-ACC honors and took home the Jerry West Award given annually to the nation's top shooting guard. He averaged 22.6 points, 7.6 rebounds and 4.3 assists per game during the 2018-19 season.