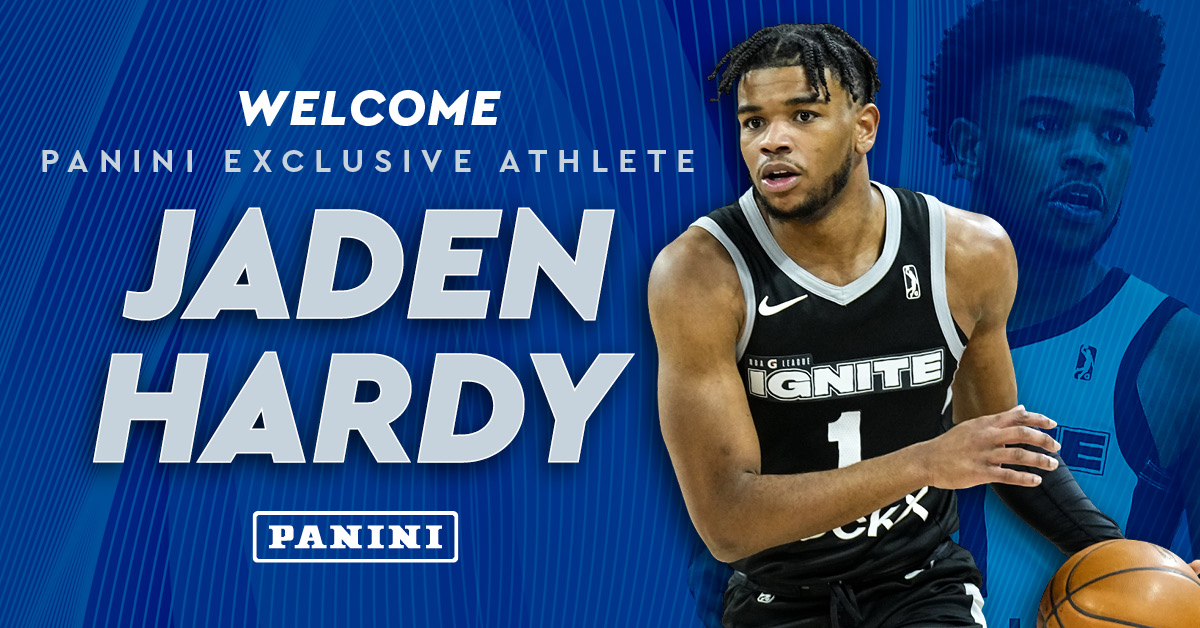 PANINI AMERICA SIGNS NBA G LEAGUE STAR JADEN HARDY TO AN EXCLUSIVE AUTOGRAPH TRADING CARD AGREEMENT
IRVING, Texas (February 18, 2022) – Heading into NBA All-Star Weekend, Panini America, the world's largest licensed sports and entertainment collectibles company and the exclusive trading card manufacturer of the NBA, NBA Players announced today that it has signed an exclusive autograph trading card deal with NBA G League star Jaden Hardy.  Hardy, a Guard with the NBA G League Ignite will participate in All-Star festivities when he takes the court on Friday night in the NBA Rising Stars game in Cleveland.  Hardy is expected to be a top draft pick in the 2022 NBA Draft.
In addition to Hardy's' autographed trading card deal which will include trading cards for the NBA G League and future NBA products, Hardy will also take part in a number of Panini America marketing initiatives and be featured on packaging on a number of Panini products.
"Jaden is an exciting young player to watch in the NBA G League and we look forward to watching him in the NBA Rising Stars Game and as he enters the NBA Draft later this year," said Panini America CEO Mark Warsop. "We are excited to have him join the Panini family."
"It's truly an honor and blessing from God to become an exclusive athlete for Panini and join their roster of other exclusive NBA athletes," Hardy said.  "As a kid growing up collecting Panini trading cards, to know that I'm going to have my own basketball trading card is a humbling experience. I can't wait to get started." Hardy said.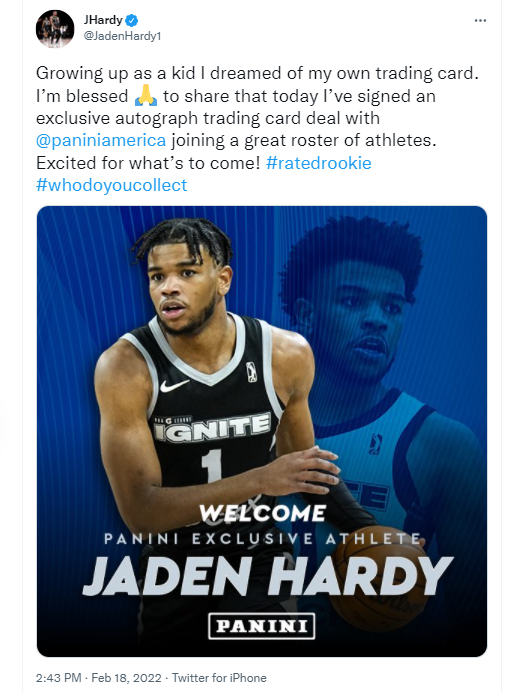 VISIT: PaniniAmerica.net
Also connect with us on:
Instagram: https://www.instagram.com/PaniniAmerica/
Facebook: https://www.facebook.com/PaniniAmerica/
Twitter: https://twitter.com/PaniniAmerica/
LinkedIn: https://www.linkedin.com/company/panini-america