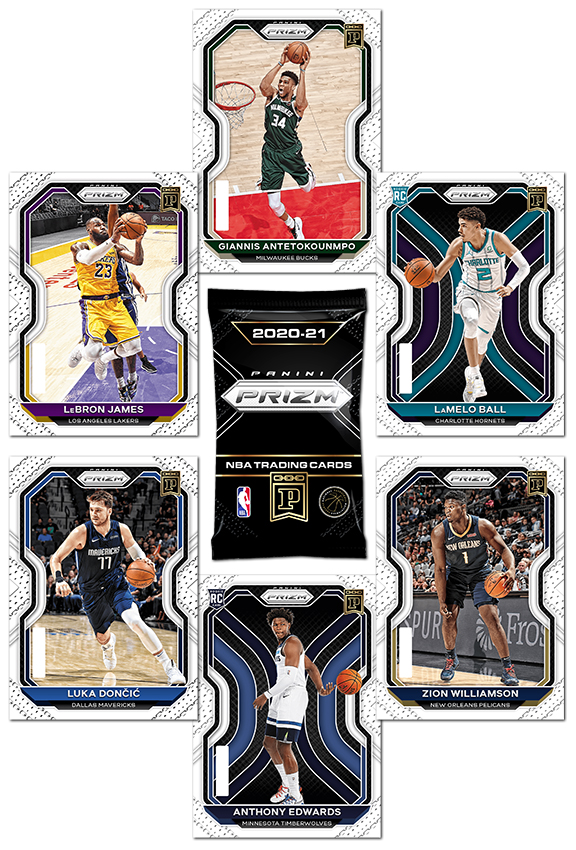 On Monday at 10 a.m. CST, the two-week, soft-launch period for Panini America's rollout of the 2021 Prizm Basketball NFT Blockchain product gives way to the first full-scale release. Indeed, following successful tests the last two weeks involving limited quantities of Red Mosaic Prizm and Green Ice Prizm preview packs, the stage is set for the initial base-set launch of Panini America's first pack-based NFT Blockchain product.
Each base pack of 2020-21 Prizm Basketball NFT Blockchain will include three Prizm base cards numbered to 1,799. Packs will be priced at $10 each and each transaction includes a 10-pack maximum. One huge difference between the full-scale launch and the two previous rollouts? Packs will be distributed to user accounts immediately. The real question is whether users choose to open those packs now or wait to sell them unopened on the Panini Blockchain platform once that functionality becomes available.
The entire base set for 2020-21 Prizm Basketball NFT Blockchain has been pre-minted to an edition of 1,799. Only a portion of each of the 1,799 base cards for each player are included in this initial release. Subsequent releases will include the remaining quantities (see the complete release schedule below).
In the sneak-peek gallery that follows, we offer a preview of some of the cards available in Monday's first Base launch. You can access the complete 300-card checklist right here. The complete 2020-21 Prizm Basketball NFT Blockchain release schedule is:
June 28: Base Prizm Pack
July 5: Silver Parallel Pack
July 5: Base Prizm Pack
July 7: Donruss Net Marvels Insert Pack
July 7: Base Prizm Pack
July 9: Silver Parallel Pack
July 9: Base Prizm Pack
July 12: NBA Hoops High Voltage Insert Pack
July 12: Base Prizm Pack
July 16: Blue Circles Parallel Pack
July 16: Base Prizm Pack
July 19: Prizm Flashback Insert Pack
July 19: Base Prizm Pack
July 23: Gold & Gold Vinyl Insert Pack
July 23: Base Prizm Pack
July 26: Noir Sneaker Spotlight Insert Pack
July 26: Base Prizm Pack