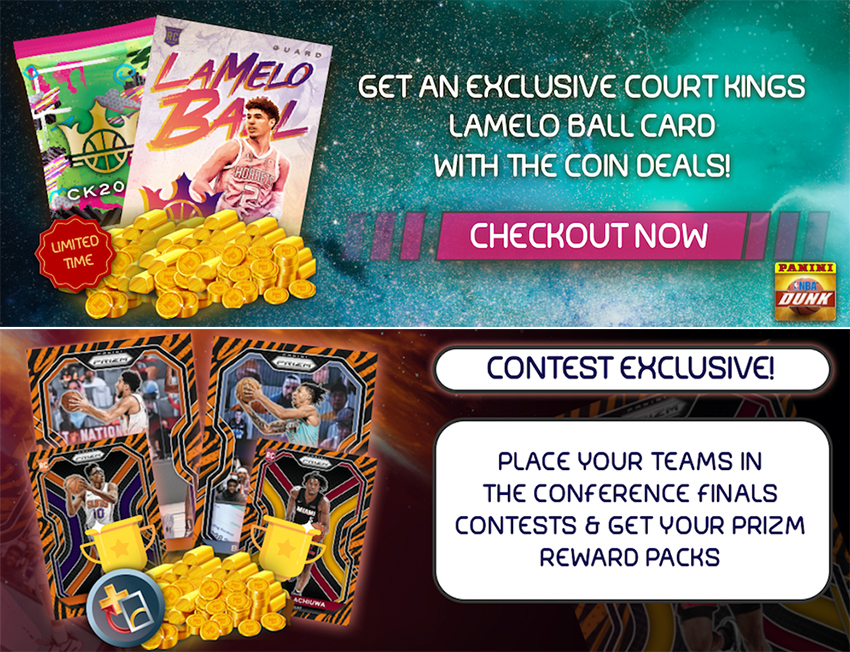 For a limited time on the NBA Dunk Digital Trading Card App, all users are eligible to get an exclusive Court Kings LaMelo Ball rookie insert. All weekend long, users who purchase any coin bundle of $9.99 or more will receive the exclusive card. The offer is valid only for coin purchases in the Dunk Deal Store.
Set up your teams in the Dunk contests and unlock cards from the contest-exclusive, 300-card Prizm Tiger Stripe set. Users will be given a pack for each of your teams as per the contest category. There are no limitations on Coin and Premium Contest entries. More lineups means more cards.
There are three ways to earn Tiger Stripe Prizm exclusives:
FREE Weekly Contest: Join a Free Weekly Contest, get one guaranteed Prizm Tiger Stripe insert; limit one per user
COIN ENTRY: Join a Coin Entry contest and get two guaranteed Prizm Tiger Stripe inserts per pack for each entry
PREMIUM ENTRY: Join a Premium Pay contest, get five guaranteed Prizm Tiger Stripe inserts per pack for each entry
Free Boxes From NFL Blitz
Missing the NFL season? Yeah, so are we. To help get you through the football lull and to brighten your sports weekend, make sure to login to the NFL Blitz Digital Trading Card App each day all weekend long and open a free customer appreciation box. One new box per day will be in your account.