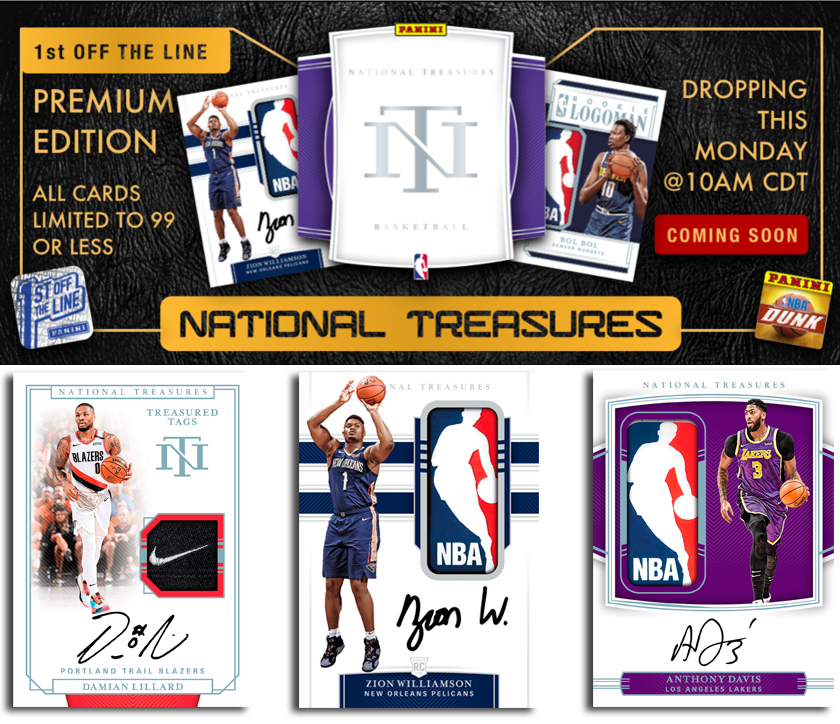 National Treasures Basketball is back in Panini America's NBA Dunk Digital Trading Card App beginning Monday at 10 a.m. CST. This special digital version of NT 1st Off The Line is an extremely limited edition. Indeed, the legendary brand is now available digitally and, much like the physical brand, every card in National Treasures will be limited to 99 or less.
Some of the most unique digital memorabilia and autograph cards in the entire NBA Dunk portfolio will be found within this new National Treasures release. The set generally sells out quickly, so make sure your notifications are turned on so you are automatically reminded when the product releases.
There are three ways to collect this special FOTL release:
1. Packs – Each pack includes one FOTL Insert or Variation.
2.FOTL Box – Each box includes four FOTL Packs and big savings.
3.FOTL Super Box – This offering will include nine FOTL Packs at even bigger savings.
Good luck and be ready Monday inside your NBA Dunk Digital Trading Card App beginning at 10 a.m. CST.