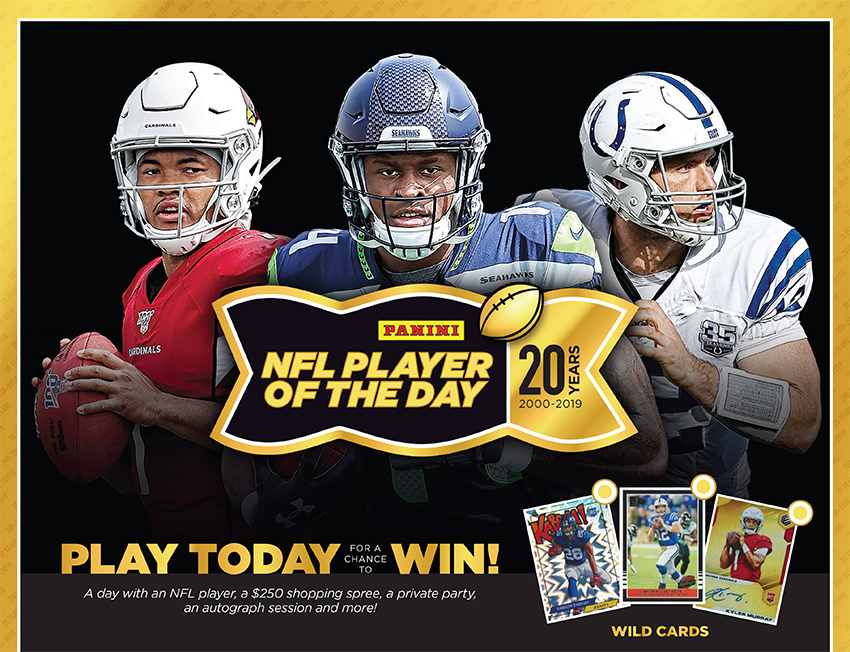 There are few things you can be sure of in life. But this is one: For the past 20 years, when you've walked into a hobby shop and purchased a pack of NFL trading cards, there was a chance that it could result in you spending a day with an NFL player. That's because, for the last two decades, more than 500 hobby shops across the country have annually hosted the Panini NFL Player of the Day promotion. And 2019 is no different as last week, the program got underway at hobby shops nationwide.
"Not too many things in the NFL have been around as long as Tom Brady and, just like the legendary quarterback, our Player of the Day program has been incredibly successful," said Jason Howarth, Vice President of Marketing for Panini America. "In addition to the lucky collectors who have had a chance to spend a day with an NFL player, millions more have won prizes while hobby shops have sold more packs of Panini trading cards."
Once again this season, the centerpiece of the promotion is a poster featuring 32 players – one from each team – as well as three Wild Cards (Saquon Barkley, Kyler Murray and Andrew Luck). Each day, collectors have four chances to win by pulling a card of either the Player of the Day or one of the Wild Cards from a pack of Panini NFL trading cards. Each shop receives a host of prizes including exclusive Panini NFL Player of the Day promo packs, T-shirts, an exclusive Panini FLPOD autographed card and more. At the end of the 32-day, in-store promotion, each shop selects a grand prize winner from their daily winners, awards them the autograph card and enters their name into the national sweepstakes for a chance to win again.
The card set includes 100 base cards with both Silver and Rapture 1/1 parallels as well as 60 memorabilia cards. The autograph cards, slabbed in a BGS holder, are available exclusively as a grand prize to each shop winner and hail from a power-packed roster of young stars and rookies including: Marquise Brown, D.J. Moore, Roquan Smith, Denzel Ward, Leighton Vander Esch, Noah Fant, T.J. Hockenson, D.J. Chark, Mecole Hardman, Josh Jacobs, Miles Sanders, DK Metcalf and more. A handful of NFL legends including Dan Marino, Brett Favre and Curtis Martin are also offered in a limited run. Additionally, to celebrate the promotion's 20th anniversary, 250 shops received a gold-wrapped Panini NFL POD Mystery Autograph to award as well.
Over the previous 19 years, Player of the Day players have included Matt Breida, Patrick Mahomes II, K.J. Wright, Jeremy Langford, Terrence West, Antonio Brown, Prince Amukamara, Beanie Wells, Pierre Thomas, Patrick Crayton, Steve Slaton, AJ Feely, Maurice Jones-Drew, Chris Simms, Rudi Johnson, Donald Driver, Ed McCaffrey, Chad Pennington and Frank Wycheck.
For a list of participating hobby shops and additional information about the promotion as well as videos from the grand prize events, visit the new Panini POD website.