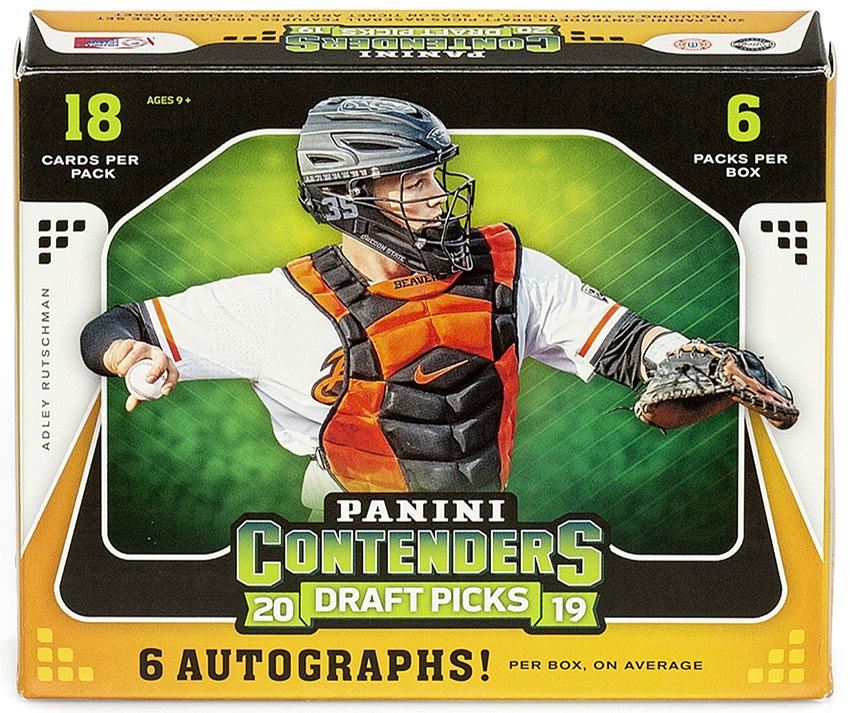 Baseball's postseason may just be underway, but today is a baseball collecting holiday of sorts for another reason, especially for prospect-minded hobbyists looking to invest in the bright future of the game. For today, you see, is release day for Panini America's 2019 Contenders Draft Picks Baseball — an ink-aided, youth-infused tribute to the best rookies, draft picks, prospects and USA Baseball players in the game — with just enough of a nod to the greats of the game.
On average, each hobby box of 2019 Contenders Draft Picks Baseball (18 cards per pack, six packs per box, 12 boxes per case) will deliver six autographs, one parallel, and a combination of 100 Season Ticket base cards, Season Ticket Variations and inserts.
Highlights of the product are many and include . . .
Autographs of all of the top 2019 draft picks in Draft Tickets Prospect Tickets and International Tickets.
Some of the first autographs from this year's top draft picks and current hot prospects. 
Look for on-card autographs from players drafted in the first three rounds from this year's draft in RPS Draft Ticket.
New this year, top draft prospects will have on-card autographs on the immensely popular Optichrome substrate in Contenders Optic.
In the revealing Quality Control Gallery that follows, we offer an extensive overview of just about everything the product as to offer. Enjoy the imagery and stay tuned to The Knight's Lance for continued coverage.