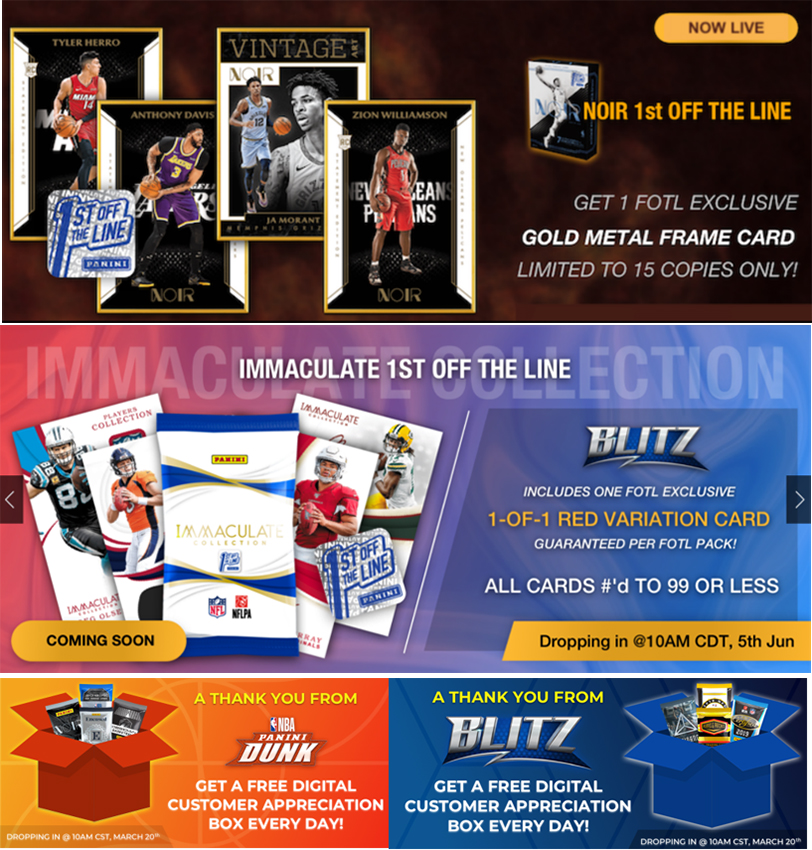 There are some big 1st Off The Line releases in the Panini America digital arena this week, and with the NBA set to re-start soon, make sure you load up on high multiplier cards to dominate contests once the players return to the court. Now is the perfect time to jump back into the Digital Trading card world or check it out for the first time. Check out what's going on in the apps this weekend:
Free Customer Appreciation Boxes! It's no secret that NBA Dunk and NFL Blitz boast some of the greatest users in the digital world. During these challenging times, we wanted to say "ThankYou" to our collector community for spending some time with us every day. While many people are looking to find more things to do at home, we wanted help out in the only way we can . . . with packs.
As a "Thank You" to our community, all Dunk and Blitz users will get a free digital Customer Appreciation Box every day. This box contains five packs with 10 cards in them, and features a variety of brands from the last few years including Absolute, Select, Obsidian, Noir and more. Don't worry if you miss a day, your box will stick around until you have time to open it. We hope to provide a bit of distraction and fun while we're all spending a bit less time together.
NBA Dunk Highlights
For the first time ever, Noir Basketball is getting get the FOTL treatment in Dunk along with massive savings opportunities.
There is a regular FOTL Pack which Includes one Gold Metal Frame digital card limited to 15 copies in every pack as well as the option to buy a FOTL box. The FOTL Box includes three FOTL Packs with BIG savings. We also are dropping the Super Box for the first time ever with eight FOTL packs and even more savings.
The most popular NBA sports card brands are now available digitally with Dunk. Collectors can find a wide variety of Rookies, Inserts, Signatures and Memorabilia cards within the Noir set. The Noir set includes 70 veteran cards and 30 Rookie Cards, along with more than 20 different Insert, Signature and Memorabilia sets. Every digital card in Noir is limited to 99 or less.
These are extremely limited and moving fast, so Jump into Dunk NOW. Make sure your notifications are turned on, so you never miss a Dunk release.
NFL Blitz Highlights
It's Immaculate Football's turn for the FOTL treatment in Blitz. Make sure to head over to the app today because this release is sure to sell out quickly.
There is a regular FOTL Pack which Includes one Red FOTL 1/1 Variation digital card per pack as well as the option to buy FOTL Boxes for big savings.