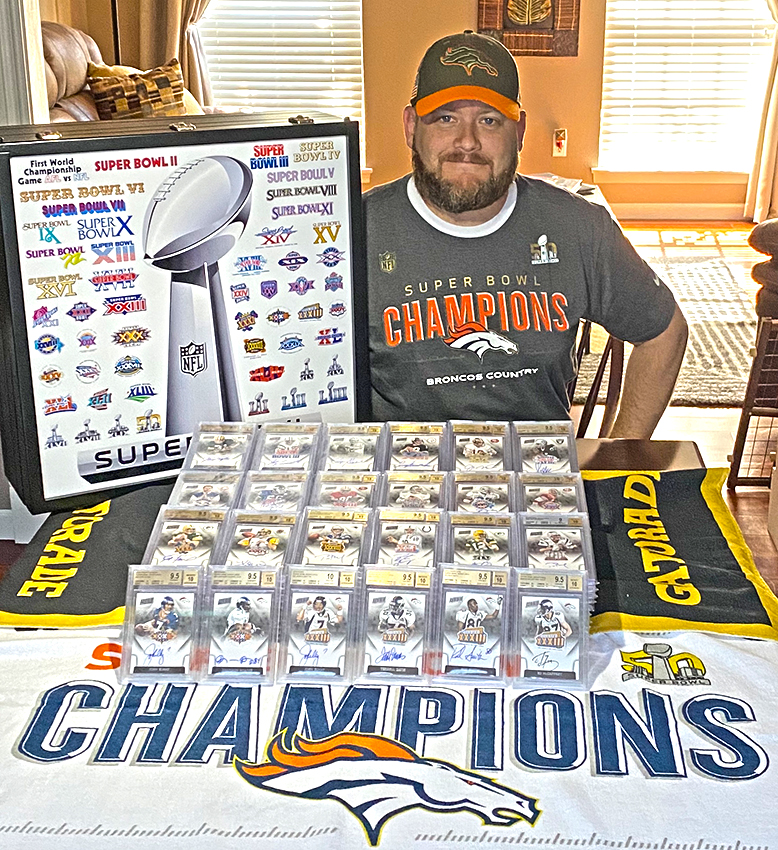 Longtime collector Luke Counts has made something of a name for himself in collecting circles over the years. That name, of course, is @drunktrojan on Instagram. A diehard Denver Broncos fan, Counts holds a place of prestige among fellow card collectors thanks to a stunning, seemingly unending array of high-end Broncos cards. But it's the "other" stuff he chases that might just be even more impressive.
You can scroll through Counts' Instagram feed and take your pick on which pursuit you deem more "Wow!" worthy. But as far as we're concerned, it's hard to deny the collecting cornerstone that is his ever-increasing Panini America Super Bowl Signatures project. The living, cut-across program first captured Counts' attention almost five years ago. Today, it's as complete as it can be at 190 cards. Counts, a St. Louis-area resident and a regular at RbiCru7 Sports Cards & Collectibles, recently sat down to profile his pursuit of the set for The Knight's Lance. This is his story . . .
By Luke Counts
The first glimpse of the Panini Super Bowl Signatures set was a Quality Control Gallery post from August 2015 previewing the upcoming Panini Certified release and then soon followed blog posts showing early boxes of 2015 Spectra Football and the Quality Control.
Panini Certified was the first release for Super Bowl Signatures and I wasn't quite sure if I was going to build the set because there wasn't a sign of what the set could be. Once I nabbed the Joe Greene and it was numbered to 25, I realized I had the first short print. Then Spectra released shortly after that and with it came the first snag. None of the cards in Spectra were numbered. I had an idea who was the short print (Brett Favre), but I didn't know how many there were. I guessed on it being limited to around 25 copies based on the Joe Greene.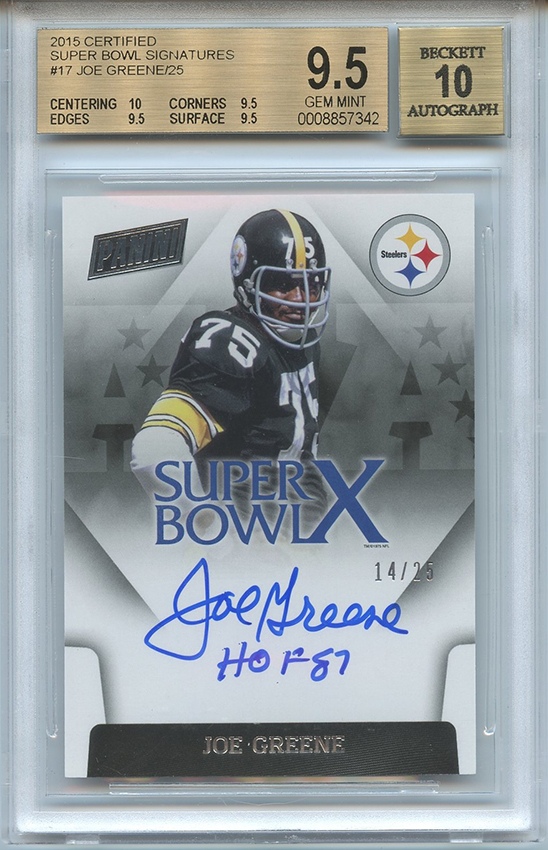 But I became fully committed to building the Super Bowl Signatures set once 2015 Playbook Football released with John Elway and Terrell Davis being added. I'm a lifelong Broncos fan and adding memorable moments of the ultimate accomplishments from your favorite team makes it so fulfilling. I enjoy the history of the Super Bowl and adding key autographs of players from each Super Bowl made each new release exciting regarding who was being added next. The remaining Panini releases from 2015 usually had a few cards to add to the Super Bowl Signatures set, ending the year with a total of 76 cards.
In my opinion, the 2016 Panini releases added some of the biggest names to the set, including Tom Brady, Peyton Manning, Jerry Rice, Joe Montana, Emmitt Smith and many more Super Bowl MVPs and stars. This Panini "Living Set" continues to evolve each year with varying numbers and not always the same releases. As the set grows and cards are added to new releases, those cards don't always make it onto the final product release checklists. This has made me develop my own set checklist and each release I follow closely for the first few weeks to see if any new additions get hit in breaks or make their way onto eBay.
(Side note: Panini America's Rob Springs is great about helping me to confirm players in certain programs and what potentially could be released in the future.)
As time has gone by there have been other collectors noticing my collection and reaching out to me about the Super Bowl Signatures set. The main questions I get are, "What product were they released in?", "Who from their team was made?", and "What is the print run on these?". I always caveat my answers with the best of my knowledge because there has never been a complete checklist released or an official print-run breakdown given out — aside from the few times the cards were stamped with serial numbers.
The one I know that is truly an SSP is Tom Brady from Super Bowl XLIX. Those were inserted into 2016 National Treasures Football and 2016 Flawless Football and are numbered out of just 10. I reached out to Panini America Customer Service and was informed that five were inserted into each product. There are two additional Tom Brady cards representing Super Bowl XXXVIII and Super Bowl LI. These, I believe, are both in the print-run range of 10.
When a product releases and includes Super Bowl Signatures additions, you need to watch breaks or eBay because you just don't know when you might see one of them again. And be ready to pay a premium if the card features a sought after player. I think most star players have a print run of under 100 and your major players usually fall at around the 25 mark. The most difficult one to find for me was the Tom Brady Super Bowl LI. At the time of the release I wasn't able to make a deal on one but I was ready for the time when one might surface.
There are many great people in the hobby and I am glad I have some as friends. At the 2018 National Sports Collectors Convention, I was unable to attend but had a friend walking the floor keeping an eye out for my sets or things that caught his eye. He went to a table and shot me a picture of a Tom Brady. I knew it was one that I needed but I didn't want to let my excitement show to my friend because he has the worst poker face. They did the "deal dance" with me texting my range and agreeing on a final price. Only then I was able to share with him that this was the last card I needed at the time. He was so excited that we were able to make a deal and add the card — and a great story — to my collection.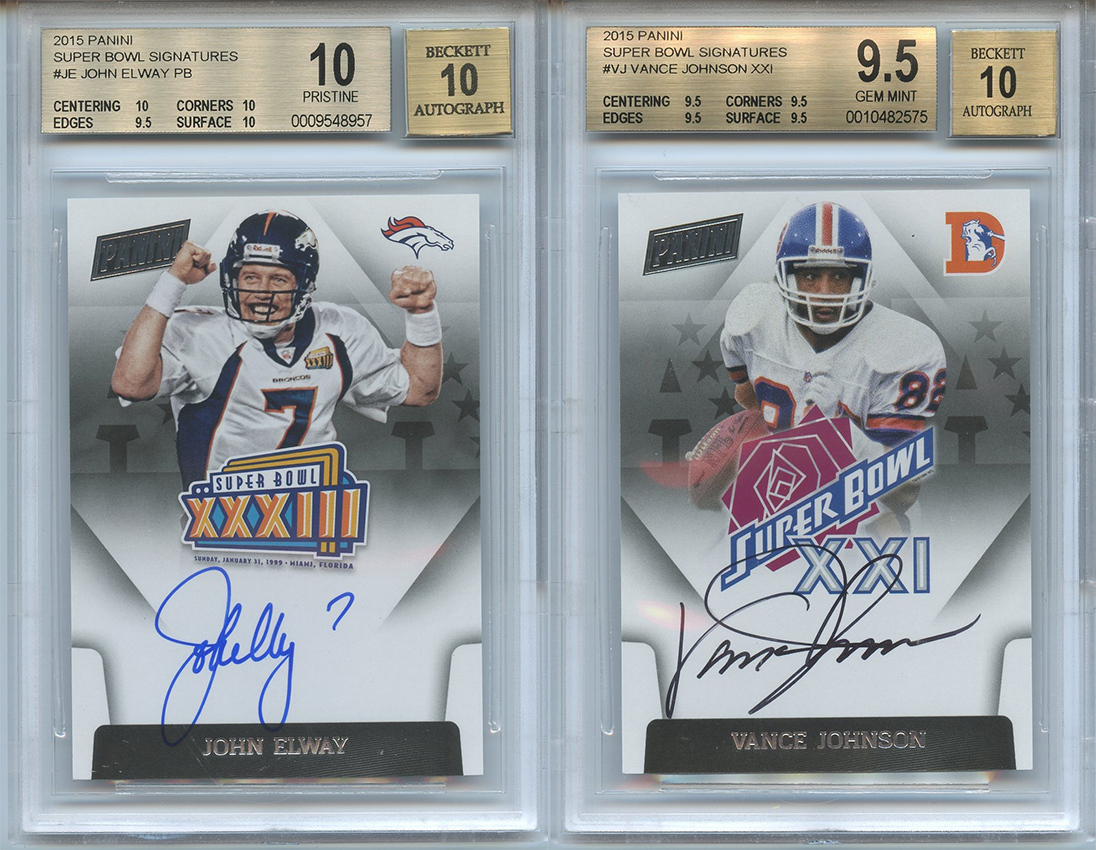 Some of my favorite cards in the Super Bowl set obviously are all the Broncos, even the Vance Johnson from Super Bowl XXI. It was a losing effort for the Broncos, but still a moment from NFL history. I enjoy learning about each Super Bowl and what each player contributed to their team leading up to and including the Super Bowl.
Currently, there are 190 different cards in the Super Bowl set. My most recent addition is Mark "Super" Duper from 2019 Chronicles Football. I really hope Panini America continues to add to the Super Bowl Signatures set. There are a few I would like to see added, the first being Von Miller from Super Bowl 50, and then additions like Patrick Mahomes and additional Jerry Rice and Emmitt Smith cards, Charles Woodson, Chuck Howley (the only player on the losing team to win Super Bowl MVP honors), Lynn Swann, Ray Lewis and so many more.
We offer an extensive gallery of Counts' impressive Super Bowl Signatures collection below. You can explore his entire collection here.