The prospects for America's most passionate prospectors just keep getting better.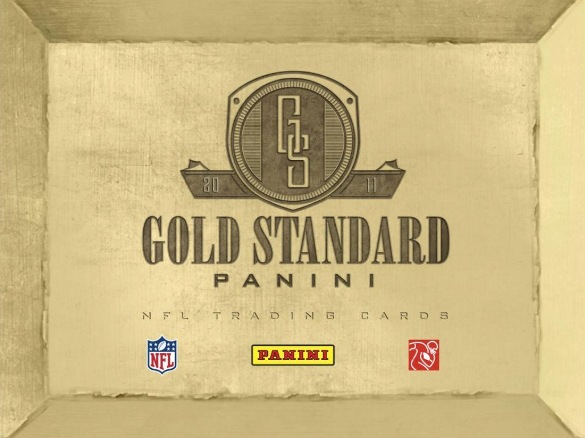 The prospects for America's most passionate sports card prospectors just keep getting better.
Panini America started the industry's great collecting gold rush late last season with the inclusion of real 14-karat gold Golden Tickets in 2010 Playoff Contenders Football. Those precious-metal pieces of history fueled an absolute feeding frenzy that paved the way for similar innovation in 2010-11 Playoff Contenders Hockey and helped launch the stand-alone 2010-11 Gold Standard Basketball.
In early November, Panini America will bring more gold to the gridiron with the brand new 2011 Gold Standard Football.
"We look at 2011 Gold Standard Football as a tremendous opportunity to accentuate and strengthen our golden reputation, so to speak," says Panini America NFL Brand Manager Carlos Torrez. "We're still so early in the life cycle of this concept and no one else is doing it. There's so much innovation left to deliver, and you'll see a lot of it delivered in this product.

"From embedded pieces of 14-karat gold etched with team, NFL and Hall of Fame logos to cards that include authentic diamonds, this product will continue to raise the bar and create unique trading cards that are literally worth more than their weight in gold straight out of the pack."
Given that the price of gold — currently more than $1,730 an ounce — has reached record highs in recent weeks should give 2011 Gold Standard Football a distinct marketing advantage and a unique place in hobby history.
Each 12-card pack will deliver three autographed cards numbered to 499 or less, two memorabilia cards numbered to 299 or less, three Base, Rookie or Legend cards numbered to 299, and four additional inserts or parallels numbered to 299 or less.
Additional product highlights include:
On-card autographed Rookie Cards from the 36 players who attended the 2011 NFL PLAYERS Rookie Premiere numbered to 499 or less
One card embedded with a piece of real 14-karat gold etched with a team, NFL shield or Hall of Fame logo in every 15-box case
Unique inserts such as Bullion Brand Logo Signatures (numbered to 5 or less), Double Standard Signatures dual-autograph cards (numbered to 99 or less), NFL Shield Signatures 1/1s and Golden Anniversary Material Signatures (numbered to 49 or less).
The stunning Super Bowl Ring Signatures insert tipped with a real diamond and numbered to 10 or less. There are also four Super Bowl Ring Team cards featuring six diamonds per cards. 
You can get a golden glimpse of the greatness to come in the gallery below. Stay tuned to The Knight's Lance for additional updates on 2011 Gold Standard Basketball.