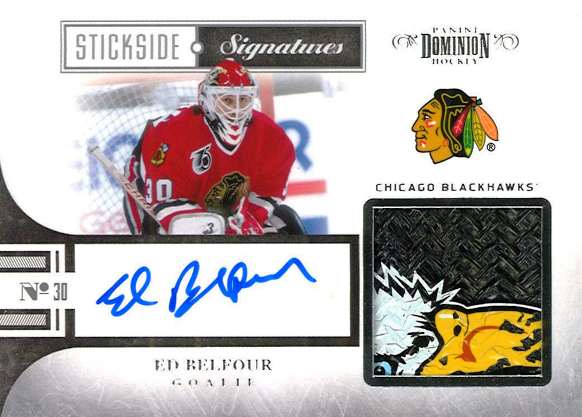 Not a day goes by without me pausing to think how cool my job really is. Over the years, I've had the pleasure of meeting some of the world's most famous athletes, but when Ed Belfour walked through the door, I was excited for another reason. You see, it's not always OUR heroes we encounter, it's others we know and in the case of Belfour, my mom is one of his biggest fans.
Growing up, she proudly displayed a puck and card I got signed for her (along with Chris Chelios) over the fireplace. That's right, HIS picture and not mine! I know what some of you are thinking, I'm not the best looking guy and some would argue that a picture of me would scare the daylights out of you. I'm not denying that…
For me to get the chance to interview the Hockey Hall of Fame's newest goalie was a dream come true for me because my mom followed his every move (and I have to admit that I did too). We were fans of the "Eagle" when he took the Blackhawks to the Stanley Cup Finals, but he became the stuff of legends in my house when the "Eagle" landed in Dallas and helped our home team Dallas Stars win the Stanley Cup.  
But enough about the Prusha family, here's a quick look at what Mr. Belfour was signing in our office for Dominion.
Dominion highlights include . . .
Bonded Silver multi-signed cards featuring the top names from some of hockey's greatest stars that captured the Cup
The hockey debut of Pen Pals autographs featuring signatures of two, three or four hockey greats on one card
Notable Nickname cards that feature some of the more unique names in hockey history
The return of Nifty 50, one of the hobby's most famous insert names, complete with on card autographs of hockey's fabled single-season 50-goal scorers
Brass Bonanza on-card autographs that pay tribute to the legends of the Hartford Whalers
The unique Tape to Tape insert featuring autographs from stars on actual tape sliced from their game-used hockey sticks