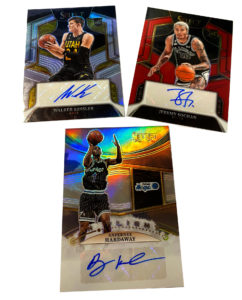 Before ripping into a pack of Select Basketball and experiencing the remarkable photography and slick parallels that the 2022-23 product offers, you'll see the Rookie of the Year. Paolo Banchero graces the art of the hobby box, a well-earned inclusion after his incredible season.
Already the featured face in Orlando, Banchero played at a high level from the start. He scored 27 points in his debut (vs. Detroit on Oct. 19), then followed that up with a 20-point, 12-rebound double-double vs. Atlanta two nights later. There was minimal cooling off after that hot start, and the forward took home Eastern Conference Rookie of the Month honors for December, January, February and March.
Doing more than just stacking stats, Banchero earned respect from players, coaches and fans with his quality scoring, versatile defense, plus impressive size-to-speed ratio. "For someone that skilled and moves the way he does, you don't expect to see that size," said Golden State head coach Steve Kerr. "He can do a lot of things on the floor."
He was also praised for his ability to get to the line. Aggressive at attacking the rim, he finished the campaign with 534 free-throw attempts, the most by a rookie since Blake Griffin took 695 in 2010-11.
On the season as a whole, the rising star averaged 20.0 points, 6.9 rebounds and 3.7 assists, numbers that helped him become the first Magic player to win Rookie of the Year since Mike Miller in 2000-01.
https://t.co/cRL6QzEC9O pic.twitter.com/CfHl3OiJdt

— Orlando Magic (@OrlandoMagic) April 5, 2023
Want to start or add to a collection of Paolo cards? Select 2022-23 is a fantastic place to look. This year's hobby box features 12 packs, with five cards in each. It contains three autographs or memorabilia cards (per box, on average) and 12 Prizms, including Gold (numbered to 10), Green (five) and Black (1-of-1).
Paolo Banchero will be joined by the rest of his impressive rookie class. You can catch signatures from Walker Kessler, Jaden Ivey, Jalen Williams and Christian Braun, who just celebrated a championship with the Nuggets.
Those up-and-coming stars are accompanied by the biggest names in the game inside the base set, which is spread over three tiers: Concourse, Premier Level and Courtside. The Courtside level features some of the best photography in the hobby, giving collectors an up-close view of their favorite players.
Other notable inserts include En Fuego, Sensations and Snapshots, as well as the short-printed Color Wheel, which is making its debut in Select Basketball this year. That set features a colorful group of past, present and future stars, including Allen Iverson, Shaquille O'Neal, LeBron James and Chet Holmgren.
Whether you're hunting specifically for Paolo Banchero, searching for the new Color Wheel insert, or looking to complete one of the three base sets, 2022-23 Select Basketball has something for you.