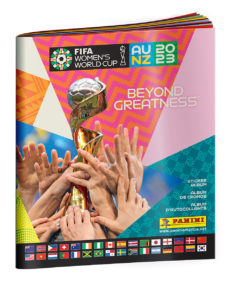 The FIFA Women's World Cup 2023™ in Australia and New Zealand gets underway on July 20 with a ton of hype surrounding it. There's more excitement than ever about women's international soccer as the tournament takes its first trip Down Under, and, of course, Panini kicks off its world-famous FIFA Women's World Cup 2023™ sticker collection.
Those who take a brief breather from the sticker chase will find intriguing storylines everywhere they turn, starting with the hosts looking to become the second home side to win the sport's most coveted trophy. The 1999 U.S. Women's National Team is the only squad to win it on home soil. Legendary forward Sam Kerr gives the Australians a chance to savor home cooking. New Zealand will be led by the 21-year-old forward Gabi Rennie.
Brazil's Marta will be participating in her sixth, yes sixth, FIFA Women's World Cup™. The 37-year-old and her South American contingent target their first title after finishing third in 1999 and as runners-up in 2007.
Reigning European women's club champion FC Barcelona will be well represented, with its stars dreaming about celebrating two major titles in 2023. Included are Norway's Caroline Graham Hansen and England's Lucy Bronze, among others.
The next generation of international upstarts will also make its mark. Keep an eye out for German duo Lena Oberdorf and Jule Brand, Swiss star Alisha Lehmann and Japanese youngster Jun Endo. And don't forget about players with connections to America through the college game. For example, England's Alessia Russo played at North Carolina, and Rennie, the New Zealander, lined up at Arizona State after transferring from Indiana.
By far the biggest storyline, on the pitch and in the Panini sticker hunt, is a U.S. Women's National Team chasing its third consecutive FIFA Women's World Cup™ trophy and fifth overall. The Americans are again the favorites for the top prize. A win would make the Stars and Stripes the only team to win three straight world crowns and give them a staggering 56 percent of the titles in tournament history.
While you are glued to the action as the USWNT chases the historic feat, you get to pursue your own glory this summer, too, courtesy of Panini.
Panini's Official Sticker Collection returns to the FIFA Women's World Cup™ for the fourth time and puts you in prime scoring position. The tournament field is at your fingertips, with aces from every corner of the planet. Don't forget about stocking up on a stacked USA squad. Collect legends like Alex Morgan and Megan Rapinoe. Start searching for youngsters like Naomi Girma, Emily Fox and Ashley Sanchez. Veterans like Andi Sullivan, Rose Lavelle and Lindsey Horan are out there for the taking, too.
Be on the lookout for a special collection of stickers that highlight a player from each of the 32 teams. They are named after the tournament's official slogan, "Beyond Greatness," and provide a chance to learn about players' histories and records. Enhance your knowledge about the beautiful game's most exhilarating talent, and boost your fun through the highly anticipated FIFA Women's World Cup™ Panini sticker collection!
Related links:
Official Panini FIFA Women's World Cup Sticker Collection 2023™
FIFA Women's World Cup Australia & New Zealand
USA! USA! USA! Follow the USWNT's March to the Final with the Official FIFA Women's World Cup Sticker Collection
Panini America Signs U.S. Soccer Superstar Christian Pulisic to Long-Term Exclusive for Autographs and Memorabilia
Panini America Signs Soccer Icon David Beckham to Exclusive Autograph and Memorabilia Deal