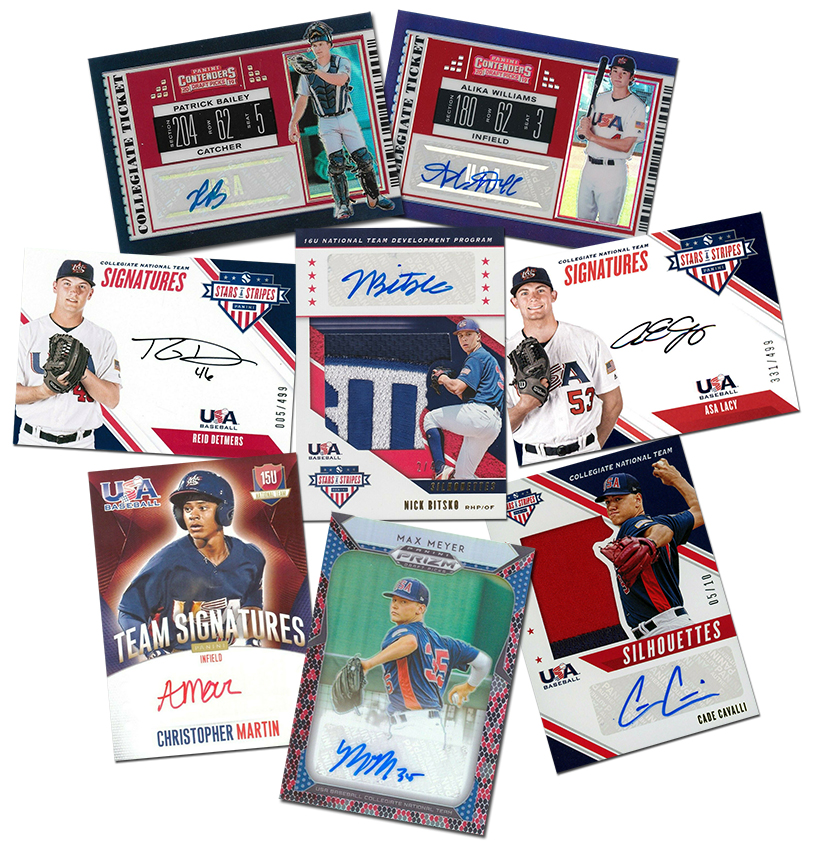 Stop us if you've heard this one before: Panini America's potential-packed USA Baseball products enjoyed yet another banner performance during last night's Day One of the 2020 MLB Draft. It merely continued an impressive Draft streak for an exclusive partnership that continues to pay dividends for everybody involved — but especially for collectors.
Indeed, for fans of the talent-rich USA Baseball program and baseball prospecting in general, Day One was rife with revelations — and perhaps a few collecting surprises. In all, 23 of the 37 players selected last night have appeared on Panini America USA Baseball trading cards, including top-five picks Spencer Torkelson, Heston Kjerstad, Max Meyer, Asa Lacy and Austin Martin.
But eight of last night's selections have appeared only on Panini America USA Baseball cards — meaning that's the only place you're going to find them. The Elite Eight (if you will) includes Meyer (No. 3 overall pick), Lacy (No. 4 overall pick), Martin (No. 5 overall pick), Reid Detmers (No. 10 overall pick), Patrick Bailey (No. 13 overall pick), Cade Cavalli (No. 22 overall pick), Nick Bitsko (No. 24 overall pick) and Alika Williams (No. 37 overall pick).
Panini America's resident prospect aficionado, Ben Ecklar, put together a quick rundown of exactly what was in the cards for Day One, you can access that information right here. Ecklar notes that seven players drafted last night have zero trading cards on the market. Something tells us that's about to change.
The 2020 MLB Draft concludes with rounds two through five tonight. We can't wait to see just how the Panini America-USA Baseball exclusive partnership continues to deliver.
Stay tuned.