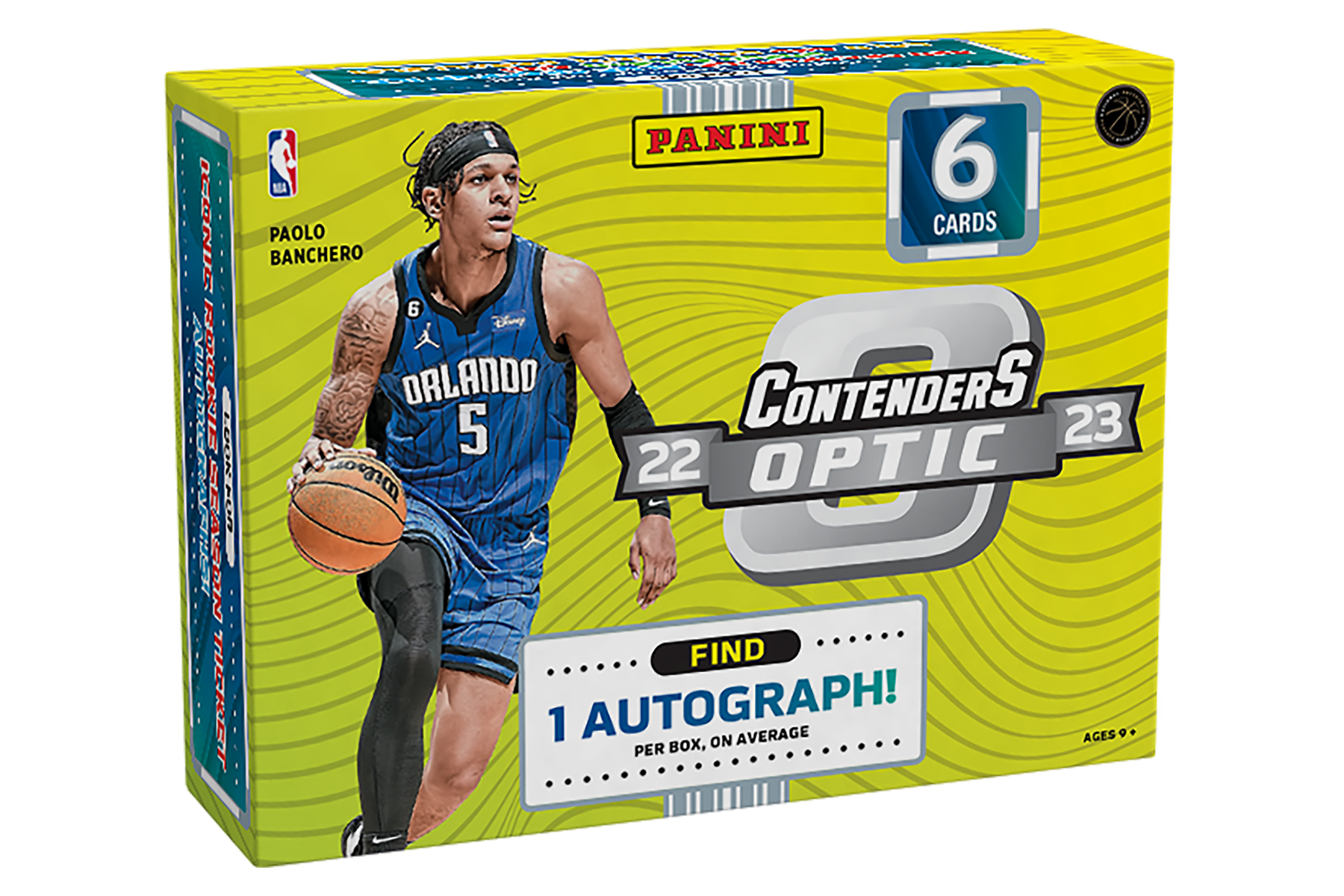 If you're reading this blog/distress signal, it might already be too late. Hoops fans are running dangerously low on the sport they love. Summer League provided some aid, and the FIBA Tournament briefly provided assistance. Since Germany took gold, however, times have been tough.
No games, no training camps and minimal roster moves. It's enough to make a basketball fanatic go crazy — and feel stranded. Where is Adrian Wojnarowski? Why did the Kings get new jerseys? What does VORP mean?!
The only thing that can keep fans from completely going crazy is Panini's Contenders Optic Basketball. The Wilson to our Tom Hanks, this fresh set of collectibles is here to keep us company during the lost days of the NBA offseason.
To be clear, this highly anticipated release is not full of castaways. In the 2022-23 hobby version of this signature set, which releases on September 29, you can find some of the greatest players to ever touch hardwood. Look no further than the All-Time Contenders Autographs set. Guys like Paul Pierce, James Worthy, Kevin Garnett and Bill Walton all provide penmanship to this desirable insert. Each hobby box contains at least one autograph (on average).
If you really want to turn back the clock, search for the 1985 Tribute Autographs insert. The slick throwback design is complemented by signatures from stars like Luka Dončić, Allen Iverson and Magic Johnson.
Up-and-coming hoopers make their presence felt through Contenders Optic as well. You can catch stars like Paolo Banchero, Jalen Williams and Jaden Ivey, all of whom are coming off high-quality debut campaigns. The always-popular Rookie Season Ticket cards will put those rising stars on display.
While ripping into a pack of cards will bring you back to basketball earth from your stranded state, you will start seeing things again. Not visions or hallucinations, but beautiful colors and designs draped over cards that are already eye-catching. This release is packed with vibrant parallels, including breathtaking numbered ones like green pulsar (numbered to 25), purple (to 15) and gold vinyl (1-of-1).
Soon enough, there'll be practice reports, preseason exhibitions and, eventually, regular-season NBA games. While waiting for that, fans can sail off the island of the offseason by cruising into Contenders Optic Basketball.