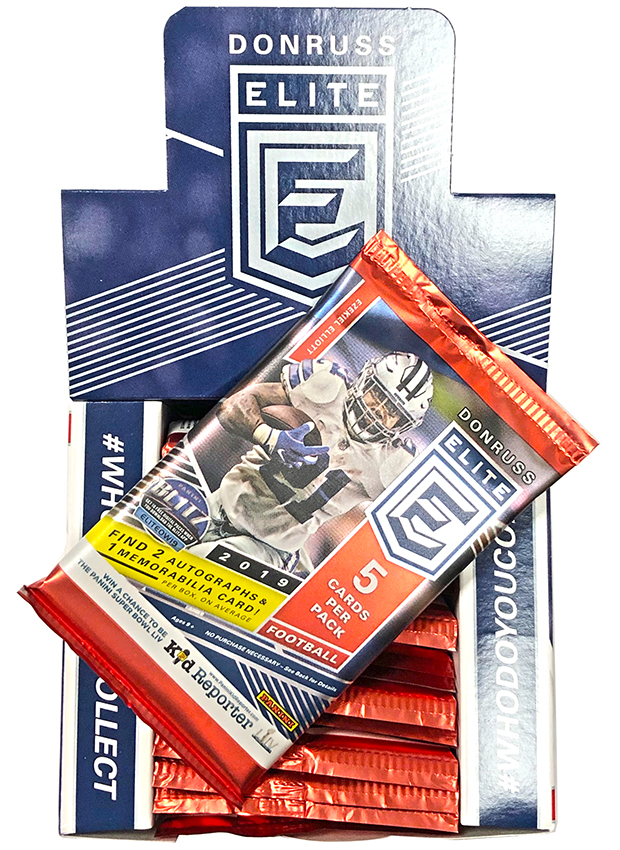 In what has been an absolutely loaded new-product release week for Panini America, the company went live with 2019 Immaculate Soccer and 2019 Elite Football on Wednesday and 2018-19 Chronicles Basketball today. As a result, we've spent most of this week previewing those new releases. Today, we're entering the Teaser Gallery box-break phase, this time focusing on 2019 Elite Football.
If you saw our Elite Quality Control Gallery from earlier this week, you know that the venerable early-season staple is back and better than ever with a flashy new base design, on-card autographs from the season's top rookies, the first cards of those rookies in their new NFL uniforms and a bevy of brand-staple inclusions. In the must-see gallery that follows, we take you pack by pack through two boxes of the product.
Enjoy the break and stay tuned for additional coverage.
Box 1

Pack 1

Pack 2

Pack 3

Pack 4

Pack 5

Pack 6

Pack 7

Pack 8

Pack 9

Pack 10

Pack 11

Pack 12

Pack 13

Pack 14

Pack 15

Pack 16

Pack 17

Pack 18

Pack 19

Pack 20

Box 1 Auto/Mem

Box 1 RCs

Box 1 Parallels

Box 1 Inserts

Box 1 Inserts

Box 2

Pack 1

Pack 2

Pack 3

Pack 4

Pack 5

Pack 6

Pack 7

Pack 8

Pack 9

Pack 10

Pack 11

Pack 12

Pack 13

Pack 14

Pack 15

Pack 16

Pack 17

Pack 18

Pack 19

Pack 20

Box 2 Auto/Mem

Box 2 Parallels

Box 2 RCs

Box 2 Inserts

Box 2 Inserts