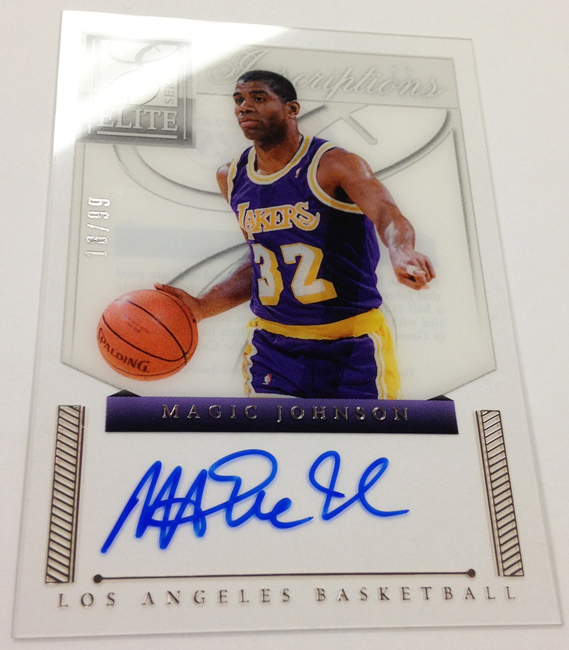 The checklist of on-card autographs that have arrived back at Panini America HQ in recent days is as impressive as it is varied. Hall of Famers from multiple sports. Legendary actors. Up-and-coming superstars. A jockey. And the products they represent — 2012-13 National Treasures Basketball, 2012-13 Elite Series Basketball, 2013 Cooperstown Baseball, 2013 Golden Age Baseball, 2012-13 Prime Hockey — are kind of a big deal, too.
To help invigorate your Saturday morning, below we've offered the handsome handiwork of all-time greats such as Tony Gwynn, Steve Carlton and Bob Gibson (the first three returns for the upcoming 2013 Cooperstown Baseball), Roberto Alomar (whose 2012 Cooperstown Baseball autos arrived too late for last year's product so they're going into 2013), Magic Johnson, George Karl, Grant Hill and Jerry Lewis.
Heck, even the unsigned cards shown below are cause for excitement. Just yesterday, we received the first to-be-signed 2012-13 Prime Hockey cards hot off the presses from the Panini America printing facility. The company's acquisitions department processed them quickly and began expediting them to their respective NHL stars on them for on-card autographs.
But we think you'll agree that they're worth taking a long look at even in their unsigned form.
Enjoy this Saturday sneak peek, and be sure to follow the Panini America Twitter feed tonight to get in on the #PaniniWildCard promotion during Game 5 of the Stanley Cup Finals.