For those who may have missed the earlier posts on The Knight's Lance, Panini America Baseball Acquisitions specialist Tone Stakes made the rounds at spring training securing autographs for Panini America's upcoming MLBPA-licensed products, primarily 2011 Limited and 2011 Prime Cuts.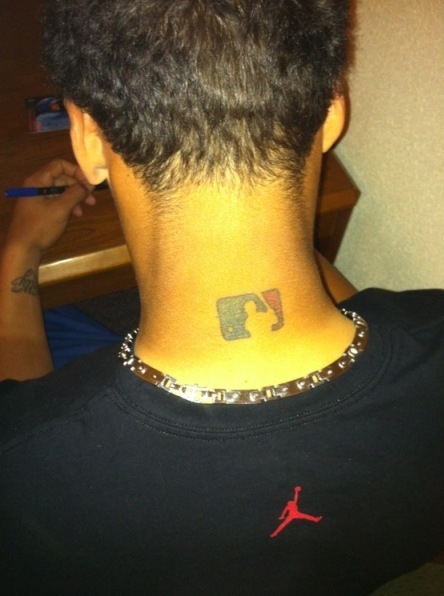 For those who may have missed the earlier posts on The Knight's Lance, Panini America Baseball Acquisitions specialist Tone Stakes made the rounds at spring training securing autographs for Panini America's upcoming MLBPA-licensed products, primarily 2011 Limited and 2011 Prime Cuts.
To help bring collectors as close as possible to the action, Stakes has been documenting his high-profile sit-down sessions, including his most recent dispatch from his first day in Arizona. Today, Stakes files his last post covering his final two days in Arizona.

We hope you enjoy his behind-the-scenes insight as much as we do.
Javier Baez
Day 3, Signing 1
Being a Cubs fan, I was excited to meet Javier, the Cubs' first-round pick in the 2011 Draft at ninth overall. I have read so many articles about his abilities and wanted to see what he was like in person. We walked into his simple hotel room and beyond the amazing collection of Javier's shoes and clothes was a huge 50-inch television that obviously was not part of the basic room. I said, "What's with the TV?" Javier laughed and said, "How was I supposed to play video games on that small TV." He was referring, of course, to the 27-inch TV the hotel supplied. He had a good point and I know his roommate was glad he thought that way. "One to watch TV and one to play games on," Javier said.
We listened to a new Puerto Rican Hip Hop artist as Javier signed his new Limited cards. I noticed Javier had a an MLB tattoo on the back of his neck. Talk about dedication to succeeding. We asked him who he enjoyed watching growing up and he said, "Manny Ramirez." When asked what his favorite team was as a kid he said, "Whatever team Manny is on." Javier wrote "9th Overall" on his inscription as he said it was one of the things he was most proud of.
Joe Panik
Day 3, Signing 2
With the 29th overall pick of the 2011 Draft out of St. John's, San Francisco picked Joe Panik. We met Joe at what seemed like San Francisco fan headquarters. Joe signed the new Limited baseball cards in the lobby of his hotel as we watched tons of San Francisco fans walk by us. "It's great to see so many fans for our organization come down to support us during spring training," Joe said. Giants players had a great location for their hotel, right next to downtown Scottsdale with plenty of places to go. Joe was rooming with fellow Giants 2011 Draft pick Andrew Susac. Joe mentioned it was fun getting to know Andrew as Joe is from the East Coast and Andrew is from the West Coast and would talk about their different experiences growing up.
I asked Joe what he noticed at this level and he said instantly, "The pitchers rarely miss the spots they are trying to hit." He has faced pitchers before who could throw fast but he said the ball moves a lot more and it's a lot harder to tell if the ball is off of the plate. For Joe's 1 of 1 inscriptions he gave us two, his twitter handle "@joepanik" and "STJ!" for his college, St. Johns.
Danny Hultzen
Day 4, Signing 1
We met the Mariners' first-round pick — second overall — Danny Hultzen at his hotel close to the Mariners' spring training ballpark. Danny was watching golf and said he loved the game but was not very good at it. I mentioned that in spring training the veteran pitchers usually get done around 11 a.m. and then hit the golf courses for the remainder of the day. He laughed and said he had heard some of the veteran pitchers get out to play a few times a week during spring training. We talked about pitching and he talked about how the hitters are so good at this level you can not miss your spots or else the ball is going out of the ball park. Funny, we had just heard the same thing from Joe Panik the day earlier from the hitter's perspective.
When Danny started signing, he had a technique I had not seen before. You can see it in the picture I took below, he angled the cards as we slid them toward him to sign. I have been in this business for quite awhile and have never seen anything like this. He said he learned it from one of the veterans in the clubhouse and said it makes it really easy. You can learn something new everyday if you pay attention.
Kevin Matthews
Day 4, Signing 2
The Texas Rangers' first-round pick (33rd overall), Kevin Matthews was available to sign at the Rangers' hotel, which is literally throwing distance from the Rangers' complex. Kevin had just pitched a game against some big-league players and said he learned a lot in his first outing. He said he did alright but he did give up a couple of hits. He  has been able to learn a lot from the pitching coaches on how to set up hitters and when to attack them. Kevin watched some of his Texas Ranger teammates pitch after his practice. including Yu Darvish. "The guy is big," Kevin said. Yu stands 6-5 and weighs in at 215 pounds. He said Yu's pitches have so much movement and velocity.
Kevin was excited about being a part of the Rangers' organization, especially after all of the recent success the team has had. He knows with the latest additions the team will continue to win ball games. Kevin's 1-of-1 inscription is his twitter handle, which just changed to @txbound11 from "uvabound" as he was scheduled to play at University of Virginia. Obviously, the draft changed that.
Elvis Andrus
Day 4, Signing 3
We sat down with Elvis at his place down the road a ways from the Rangers' ball park. Elvis had just made it back from his trip to Las Vegas where the Rangers and Cubs played a few exhibition games. He mentioned the team that went to Las Vegas from the Rangers was the powerhouse of their lineup, including Nelson Cruz, Michael Young, Mike Napoli, Adrian Beltre, Ian Kinsler and Josh Hamilton. Nice lineup to have around you every day.  Elvis said the last couple of years have been great, even though they have yet to bring home a championship trophy. He said he believes they will be in the World Series again as long as the team stays healthy.
"El Comando" — as his brother calls him and how he signed his 1-of-1 inscription — is used to signing at this point in his career and burned right through them. I wish I had a story to explain what "El Comando" means but all I could get out of Elvis and his brother was "it's a good story" and a nickname his brother gave him. If anyone finds out what this means please let me know.
Thanks for all of the good memories Spring Training, see you next year!