For those who may have missed the first posts on The Knight's Lance, Panini America Baseball Acquisitions specialist Tone Stakes is making the rounds at spring training right now securing autographs for Panini America's upcoming MLBPA-licensed products, primarily 2011 Limited and 2011 Prime Cuts.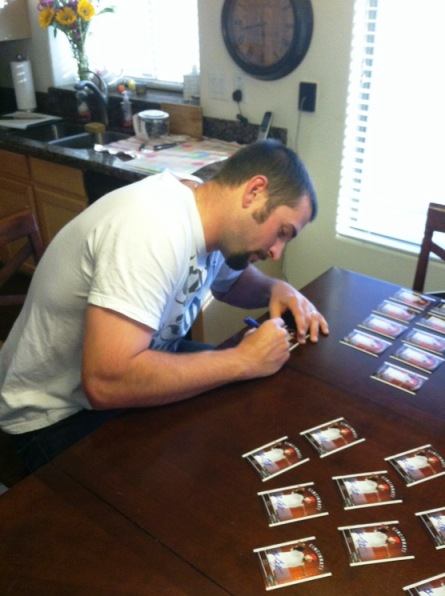 For those who may have missed the first posts on The Knight's Lance, Panini America Baseball Acquisitions specialist Tone Stakes is making the rounds at spring training right now securing autographs for Panini America's upcoming MLBPA-licensed products, primarily 2011 Limited and 2011 Prime Cuts.
To help bring collectors as close as possible to the action, Stakes has been documenting his high-profile sit-down sessions, including the following new dispatch documenting his first two days in Arizona after a prolonged stint in Florida.

We hope you enjoy his behind-the-scenes insight as much as we do. Stay tuned to The Knight's Lance this weekend for an expansive gallery showcasing just some of the cards Stakes has had signed so far.
I landed in Arizona on the first flight of the morning. I was excited about the trip as the spring training tour around Florida was such a blast. Can we top the stars and top prospects we met in Florida? We're definitely going to try.
Bill Bray
Day 1, Signing 1
I was excited to meet Bill as I had heard from the Panini America team that Bill was a true sports card collector.  He toured the Panini America offices in December of last year and showed his passion for cards with Scott Prusha during a must-see episode of Panini Unwrapped. Bill's love for trading cards did not disappoint, after talking about some of his favorite sets growing up, we got into the current products and how he enjoyed the style and creativity of the Panini America cards.
He laughed and said that he must be one of the only middle relievers in baseball who has a baseball card. We were lucky enough to see Bill in his home environment with his wife and 2-year-old daughter along with his in-laws. As a father of a 2-year-old myself, I know how entertaining (is that the right word?) it is, so when Bill tried to get his daughter to do Yoga poses that she learned from her mommy and baby yoga classes and she refused, we laughed together. For Bill's 1-of-1 inscription, we got more than our money's worth with two inscriptions! A Bible verse he is fond of and his twitter handle. Meeting with Bill was a great start to the trip.
Robert Stephenson
Day 1, Signing 2
The 27th overall pick in the 2011 draft for Cincinnati, Robert is a pitcher who has been clocked throwing 98 mph. The man signs as fast as he throws. I took three pictures of him signing these cards and all three were blurry; but I did capture a sweet image of his finished card. Being drafted right out of high school can be daunting for some, but Robert said he liked the challenge. He was waiting for the day when he would be able to face some of the big league players even if it at first it was just in practice. At Alhambra High School last year he threw back-to-back no-hitters!
I can only imagine what those big leaguers will be seeing from Robert soon when he acquires a little more discipline and strength. His 1-of-1 inscription card was a salute to his high school team, "Go Bulldogs!"
Day 2
I woke up to a nice set of clouds looming over the Phoenix region. Where is all of the hot sun people keep talking about?  Maybe we brought this bad weather with us from Florida. Oh well, we have another day full of great players to sit down with . . .
Cory Spangenberg and Joe Ross
Day 2, Signing 1
San Diego had a great chance to improve its farm system during the 2011 draft by having the 10th and 25th overall picks. With the 10th pick, the team selected Cory Spangenberg before using the 25th pick to grab pitcher Joe Ross. We were lucky enough to sit down with Cory and Joe at the same time and talk with them about how their lives have changed over the last 12 months.
Both players mentioned it had been an exciting 12 months. Cory has enjoyed the media and press coverage he has received and looks forward to being a daily contributor to the San Diego system soon. Cory talked about some of his successes in his baseball career, including his high school team, Abington Heights, winning a state championship (which inspired his 1-of-1 inscription), being named the Florida Junior College Player of the Year and multiple MVP awards. He was not boastful by any means, but just stating the facts of his achievements as we questioned each player about how they got to be where they are today.
Joe has some familiarity what to expect at this level as his older brother, Tyson Ross, plays for Oakland and has been able to give Joe guidance. When asked if he and his brother discussed pitching techniques as well, he said, "Not really, because we are different styles of pitchers; however, we do talk about the game and how to approach certain styles of hitters." Joe's parents were excited that he was picked by San Diego because they could watch both of their sons play in the same spring training area instead of flying back and forth between Arizona and Florida.  Joe's 1 of 1 inscription was a shout out to his high school team — "Go Dragons."
Francisco Lindor
Day 2, Signing 2
Two top-10 picks in the same day? Yes, indeed. Francisco was the eighth overall pick of the 2011 draft for Cleveland. "Paquito," as his friends call him and what he signed on his special 1-of-1 inscription, had one of the coolest watches I have ever seen. The picture below does not do it justice. Besides Francisco's skills on the field, he is also a techie. He was explaining what he can do with his iPhone and how he can change the operating system and interface designs. Way over my head so I just listened and acted like I knew what he was talking about.
Born in Puerto Rico, he moved to Florida when he was 12. Francisco is a fluent speaker of both Spanish and English and said he learned the game from his father, brother and cousin who all played baseball growing up. He wanted to be better than they were so he worked harder and longer than the others.
That's all for our first two days in Arizona. Stay tuned to The Knight's Lance for exploits from an action-packed second two days soon.