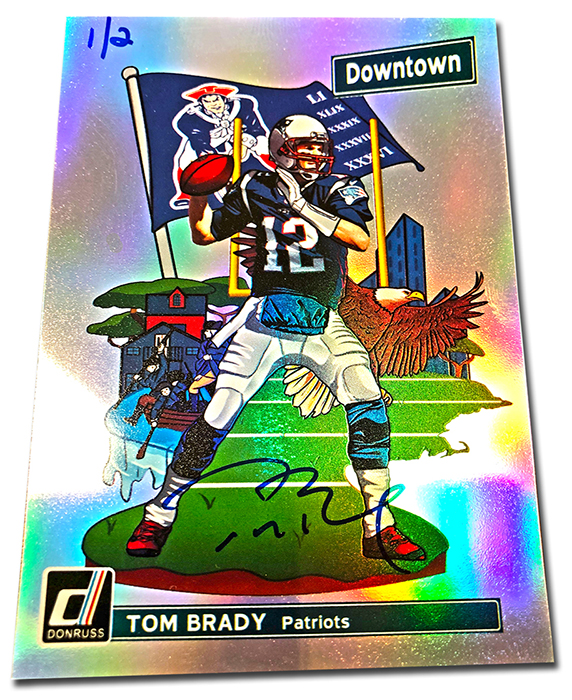 Although both 2018-19 Donruss Soccer and 2019 Diamond Kings Baseball launching today has kept things rocking in local hobby shops and on group-break sites across North America for most of this hump day, there's still one more new release from Panini America coming this week. On Friday, the company's 2018 Honors Football arrives boasting a bevy of old-school nostalgia and new-school shine.
By incorporating the most desirable aspects of the last Honors release in 2016 and mixing in a few new collector-friendly tweaks, 2018 Honors Football looks to be a blockbuster featuring original and BGS-graded BuyBacks of classic Panini America cards, more on-card autographs than in 2016, and updated base and autograph versions of top rookies from 2018 Score Football and 2018 Classics Football on premium Optichrome technology.
On average, each hobby box of 2018 Honors Football (four cards per box, 10 boxes per case) will deliver two autographs and two base cards. Additional highlights of 2018 Honors Football include . . .
Updated autograph versions of some of the most iconic cards of all time, including 1989 Score Football Barry Sanders, 1990 Score Football Emmitt Smith, 2000 Score Preview Football Tom Brady, 2001 Score Select Football Drew Brees and more.
BGS-graded BuyBacks of legends such as Walter Payton, Johnny Unitas, Bart Starr, Tom Brady, Aaron Rodgers, Reggie White, Jerry Rice, Randy Moss, Dan Marino, John Elway, Drew Brees and Bill Belichick and more.
The 32-card Honors Base set (one player per NFL team) includes base versions numbered to 99 as well as Gold (numbered to 75), Blue(numbered to 25), Orange (numbered to 10), Red (numbered to five) and Black 1/1 parallels. There are also Honors Base Signatures sharing the same parallel configuration.
Classics Update Rookies and Score Update Rookies subsets honoring the top 30 rookies of 2018 on Optichrome stock and featuring an array of parallels numbered to 99 or less.
Base Score Update Rookies Signatures (numbered to 99 or less) are accompanied by Gold Zone (numbered to 50 or less), Artist's Proof(numbered to 35), Red Zone (numbered to 20), First Down (numbered to 10), End Zone (numbered to six) and Gem Masters 1/1 parallel versions.
Base Classics Update Rookies Significant Signatures numbered to 99 or less and featuring Green, Gold, Red, Orange, Blue and Black parallel versions.
Gem Masters parallel versions of the base sets printed on Optichrome stock.
The landmark Recollection Collection includes some of the best cards ever made of the best players, all hard-signed and hand-numbered.
In the revealing Quality Control Gallery that follows, we take a look at some of 2018 Honors Football's impressive autograph inclusions. Enjoy the sneak peek and stay tuned for additional coverage.