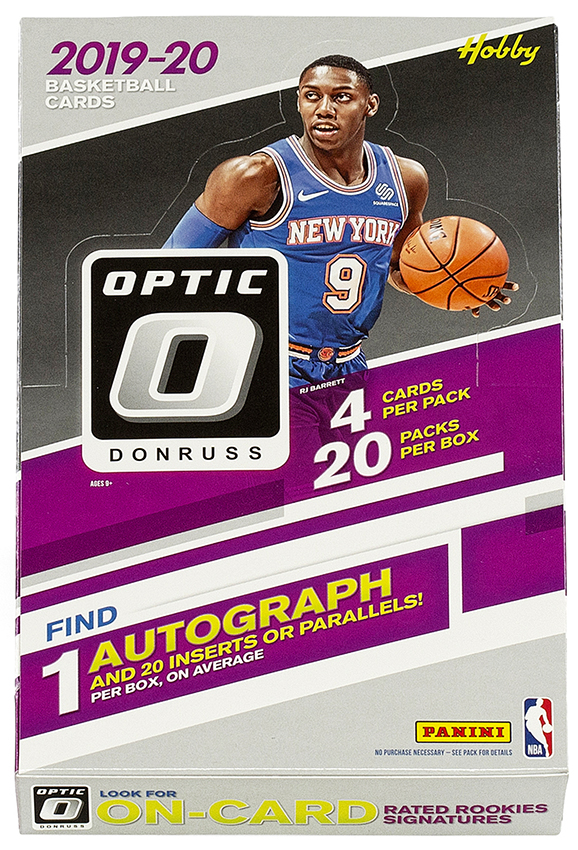 There's a mesmerizing, mystical thing that happens when Panini America officials give any of their flagship Donruss products the Optichrome overhaul. Despite featuring virtually the same designs, players and aesthetic elements as the base-brand counterpart that releases earlier in the season, the Donruss Optic version always hits a bit . . . differently. It's more vibrant . . . and flashy . . . and Prizmy. And that's what makes it a completely different product.
Indeed, it's not — nor is it intended to be — Donruss Basketball. It is, instead, something altogether new. It's 2019-20 Donruss Optic Basketball — and it arrives in hobby shops and on group-break sites across North America in six short days. And it promises to follow in the blazing-hot footsteps of its Donruss Optic predecessors.
On average, each hobby box of 2019-20 Donruss Optic Basketball (four cards per pack, 20 packs per box, 12 boxes per case) will deliver one autograph and 20 inserts or parallels. The pursuit of Prizm rainbows is a key driver for this product, as it is with just about any product featuring Panini America's Optichrome technology. In the revealing Quality Control Gallery that follows, we offer a deep dive into the hobby edition of the product as well as the Choice and Fast Break SKUs.
One thing to note before you dive into the eye candy: There is something of an anomaly in 2019-20 Donruss Optic Basketball. Two players — Kendrick Nunn and Luka Samanic — have unintentional NNOF (No Name on Front) base cards and base parallels due to a production issue.
2019-20 Donruss Optic Basketball will be available at the official online store of Panini America beginning Wednesday at 10 a.m. CST.