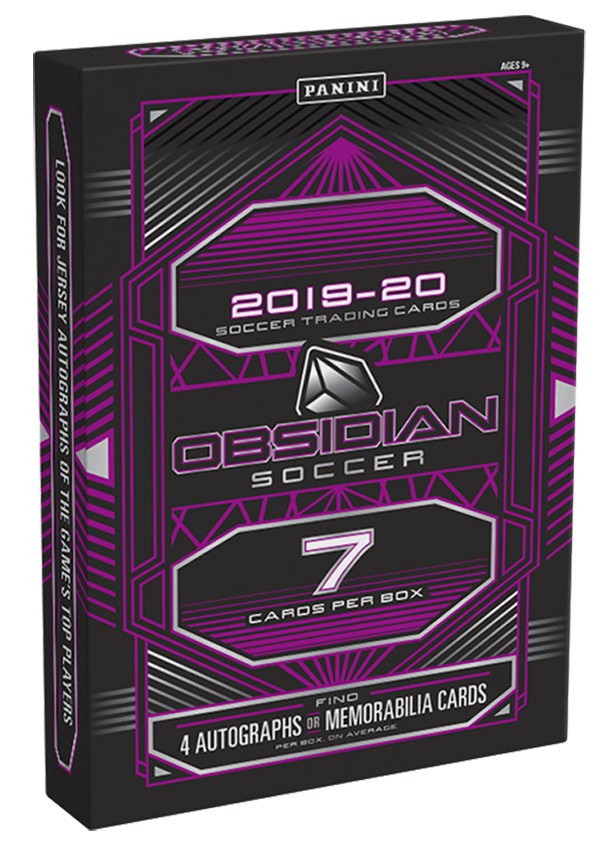 Panini America's inaugural edition of the Optichrome-powered Obsidian Soccer arrives in hobby shops across North America on Wednesday boasting those same spectacular elements that have made the brand so successful in football . . . and basketball . . . and baseball. Awash in captivating color that pops off a dark base aesthetic, 2019-20 Obsidian Soccer is primed to add another staple to the company's soccer portfolio.
On average, each hobby box (seven cards per box, 12 boxes per case) will deliver four autograph or memorabilia cards, one base or Rookie Card, one insert or parallel and one base/Rookie Card/Contra parallel. As you'll see in the revealing Quality Control Gallery that follows, the product is absolutely dressed to impress.
The highlights of the product are many and include . . .
Three types of autograph/memorabilia cards to collect: Jersey Autographs, Dual Jersey Ink and Matrix Material Autos. All of these cards are numbered to 99 or less and there are five parallel versions of each set to chase.
The autograph cards in Obsidian Soccer are some of the sharpest-looking in the hobby. Look for Lightning Strike, Aurora Autos and Obsidian Autos along with their six parallel versions.
The product includes the first autographs of Mason Mount, Daniel James and more, and features stars of the Premier League, La Liga, Serie A and more.
Enjoy the gallery that follows and stay tuned for additional coverage.
2019-20 Obsidian Soccer will be available at the official online store of Panini America beginning Wednesday at 10 a.m. CST.