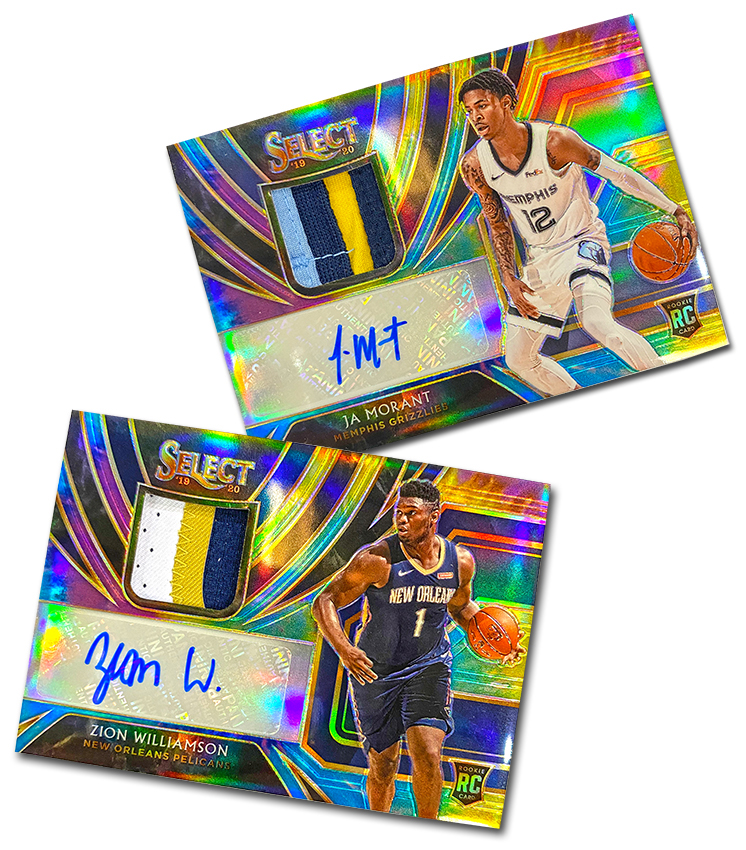 Let's face it: Some new-release weeks in the trading cards industry are just more action-packed than others. This, for the record, is one of those weeks as Panini America readies to launch 2019-20 Select Basketball, 2019 Encased Football and 2020 Donruss Baseball in hobby shops across North America on Wednesday. It's a diverse array of products, each with its own unique value equation. We'll spend the early part of this week previewing each of the products with must-see Quality Control Gallery posts, beginning with 2019-20 Select Basketball.
On average, each hobby box (five cards per packs, 12 packs per box, 12 boxes per case) will deliver three autograph or memorabilia cards, 10 Premier Level base cards, two Courtside base cards and 12 Prizm parallels. Get additional product highlights and the extensive preview gallery after the jump.
Product highlights include . . .
Some of the most unique Prizms of the year including Tie-Dye, Tri-Color and Zebra.
Collect all three tiers of the base set along with Prizm parallels for each (Concourse, Premier Level and Courtside).
Look for the highly coveted In Flight Signatures set, featuring a deep lineup of on-card autographs from the top rookies, veterans and legends of the NBA.
Collect Rookie Jersey Autographs in the following formats — Base (numbered to 199), Purple (numbered to 99), Tie-Dye (numbered to 25), Gold (numbered to 10) and Black 1/1. Tie-Dye, Gold, and Black all feature prime swatches of jersey.
Brand new to Select this year, look for Artisitic Selections, a super-short-printed insert that features some of the best players to ever play the game.
Enjoy the gallery and stay tuned for additional coverage. 2019-20 Select Basketball will be available at the official online store of Panini America beginning Wednesday at 10 a.m.