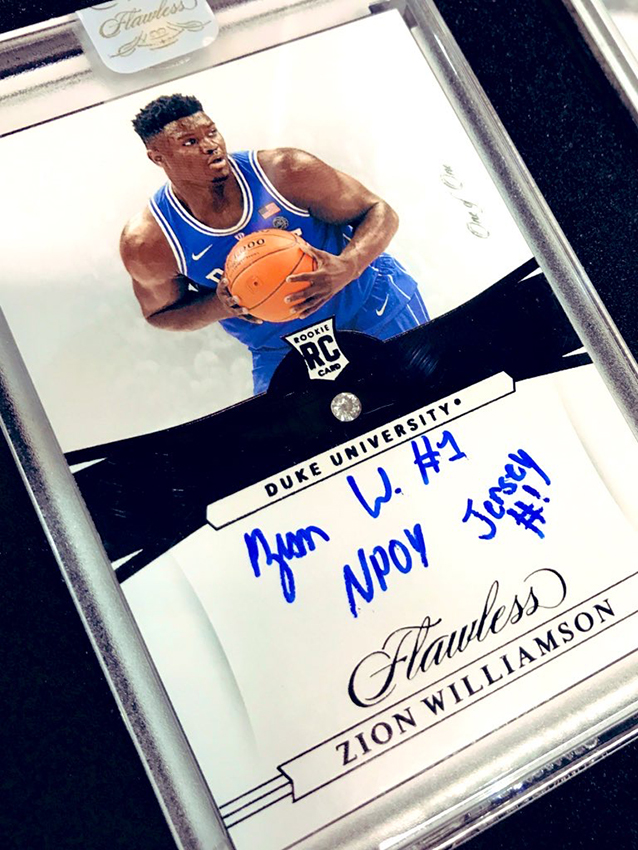 Flawless. Zion. If you're a high-end card collector, those two things on their own merit are downright impossible to resist. Put them together — Flawless Zion — and you've got the makings of hobby hysteria. And it strikes tomorrow. That's when Panini America's 2019 Flawless Collegiate Basketball arrives in hobby shops across North America boasting some of the most jaw-dropping single cards you've seen all year.
And while Williamson is a headlining attraction, the rest of the rookies in the heralded 2019 NBA Draft Class (including Ja Morant, Coby White, RJ Barrett and more) are primed to give him a run for his money. As you'll see in the revealing Quality Control Gallery that follows, 2019 Flawless Collegiate Basketball is loaded with the kind of staggering autograph and memorabilia content that has made Flawless unforgettable in any arena.
On average, each briefcase of the product will deliver six autographs, two memorabilia cards and two gem cards. Enjoy the sneak peek below and stay tuned to The Knight's Lance for continued coverage.