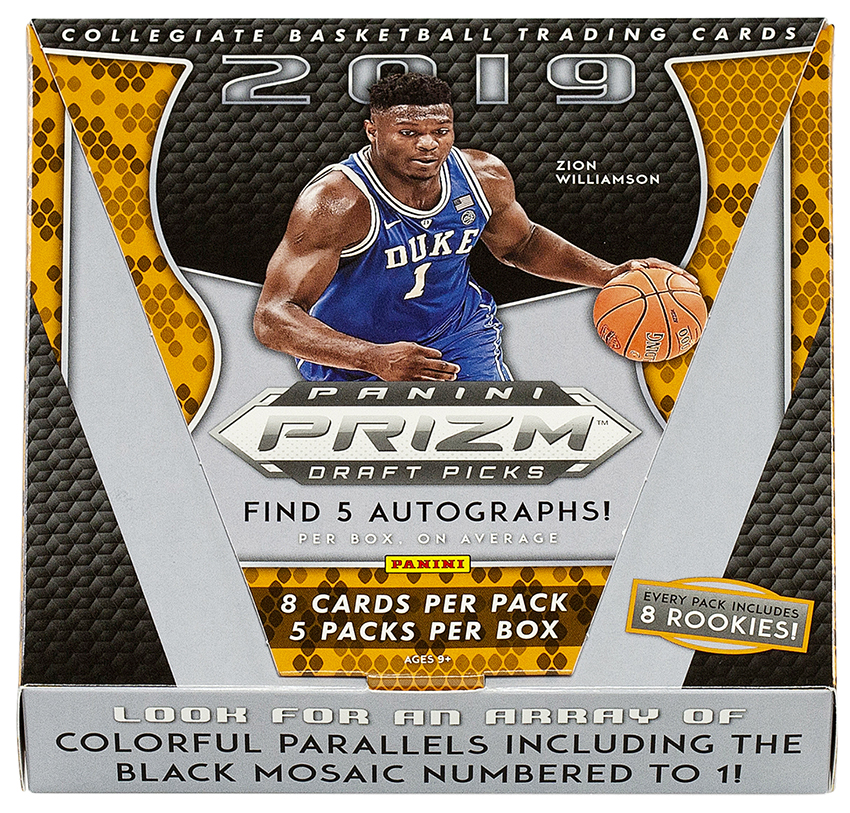 You hear that? It's the buzz . . . the anticipation . . . the tangible sense of impending discovery. There's a new Prizm Rainbow chase swiftly approaching. It arrives on Wednesday with the release of Panini America's 2019 Prizm Draft Picks Basketball. Somewhere, over the rainbow, will be Gold Vinyl Zions, Snake Skin Jas, Green RJs and so much more.
The 2019 Prizm Draft Picks Basketball checklist is exclusive to this year's rookie class. That means the top picks from the 2019 NBA Draft will be featured multiple times throughout the program. As an example, players such as Zion Williamson, Ja Morant and RJ Barrett will be featured on two different base cards, one Crusade, and one All-American, and will be featured on a colorful arsenal of parallels including 16 that are numbered.
On average, each hobby box of 2019 Prizm Draft Picks Basketball (eight cards per pack, five packs per box, 16 boxes per case) will deliver five autographs, 15 base parallels and 20 base cards (base/All-American/Crusade). Look for rare Red & Black Snake Skin Prizms that fall roughly once per case, on average, as well as Color Blast inserts that fall once every 10 cases, on average.
There are also hobby-exclusive parallels such as Black Mosiac, Gold Vinyl, Gold and many more. We offer a revealing glimpse of the product in the must-see Quality Control Gallery that follows. Enjoy the imagery and stay tuned for continued coverage of this Wednesday release.