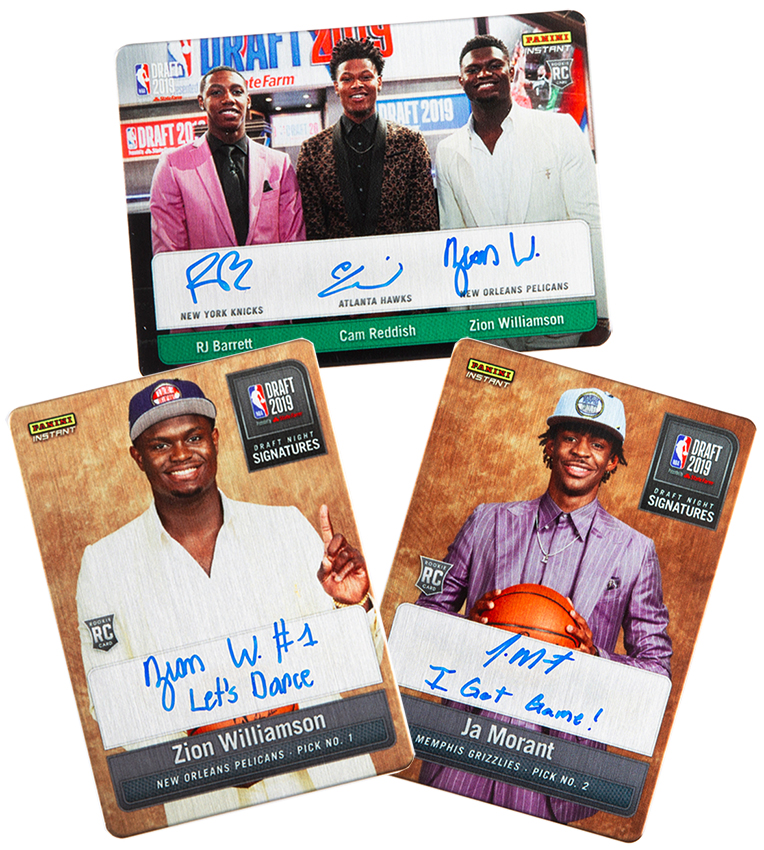 For the third consecutive year, Panini America is using its Panini Instant on-demand trading card platform to deliver some of the season's most heavy-duty tributes to the new NBA rookie class. Later today, Panini Instant will launch the first wave of unique hard-signed metal cards honoring key NBA rookies such as Zion Williamson, Ja Morant, RJ Barrett, Jarrett Culver and more.
The special cards were signed during the 2019 NBA Rookie Photo Shoot and are available in a base Red version numbered to 25, a Green version numbered to 10 and a Black 1/1 version. New this year are inscriptions for all 1/1 versions and a rare Triple-Autograph card featuring Duke's big three of Williamson, Barrett and Cam Reddish. The cards will launch at 2 p.m. CST today on Panini Instant and four to five new cards will be listed each day (Monday through Friday) for the next two weeks.
You can check out an extended preview of the cards in the gallery that follows. Today's first wave includes Williamson, Carsen Edwards, Mifondu Kabengele and Luka Samanic.
Enjoy the gallery.