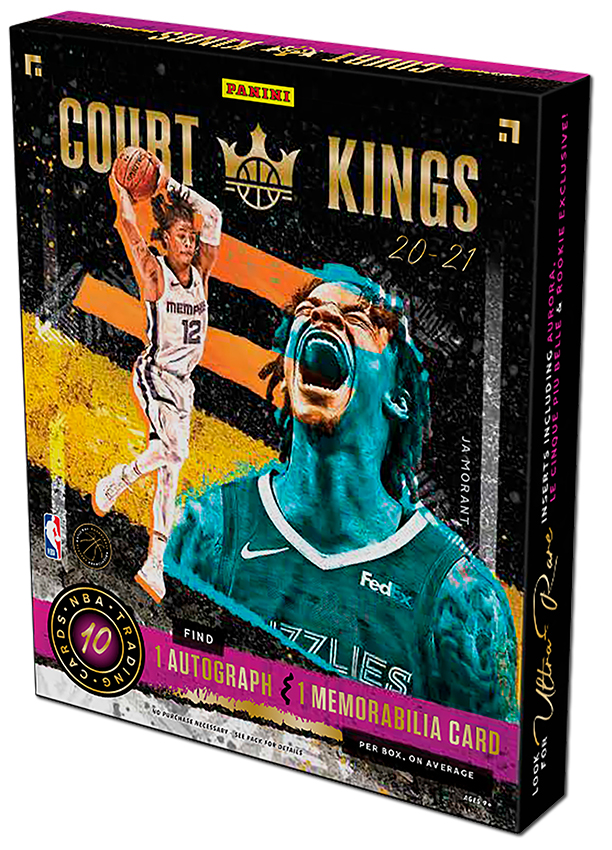 Tomorrow, Panini America's art-influenced Court Kings Basketball arrives for the 2020-21 NBA collecting season to once again enchant fans and collectors with an abundance of vibrant colors, captivating aesthetic concepts and an overall vibe just as suited for a marquee art exhibit as it is for the local hobby shop.
On average, each hobby box of 2020-21 Court Kings Basketball (10 cards per box, 16 boxes per case) will deliver two autograph or memorabilia cards, one Rookie Card, one parallel, two insert cards and four base cards. The highlights of the product are many and include . . .
Look for the popular, super-short printed inserts in Aurora, Le Cinque Piu Belle and Rookie Exclusive.
Collect all four versions of each newcomer's Rookie Card, with each subsequent version growing increasingly rare (the rarest of which being the SSP Rookies IV).
Look for popular autograph sets in Fresh Paint, Heir Apparent and Legacies Signatures.
Find autographs of top rookies Anthony Edwards, James Wiseman and more.
Collect the new insert set Works in Progress featuring one of the best designs you'll see all year.
Enjoy the Quality Control Gallery that follows and stay tuned for additional coverage.
2020-21 Court Kings Basketball will be available at the official online store of Panini America beginning Wednesday at 10 a.m. CST.