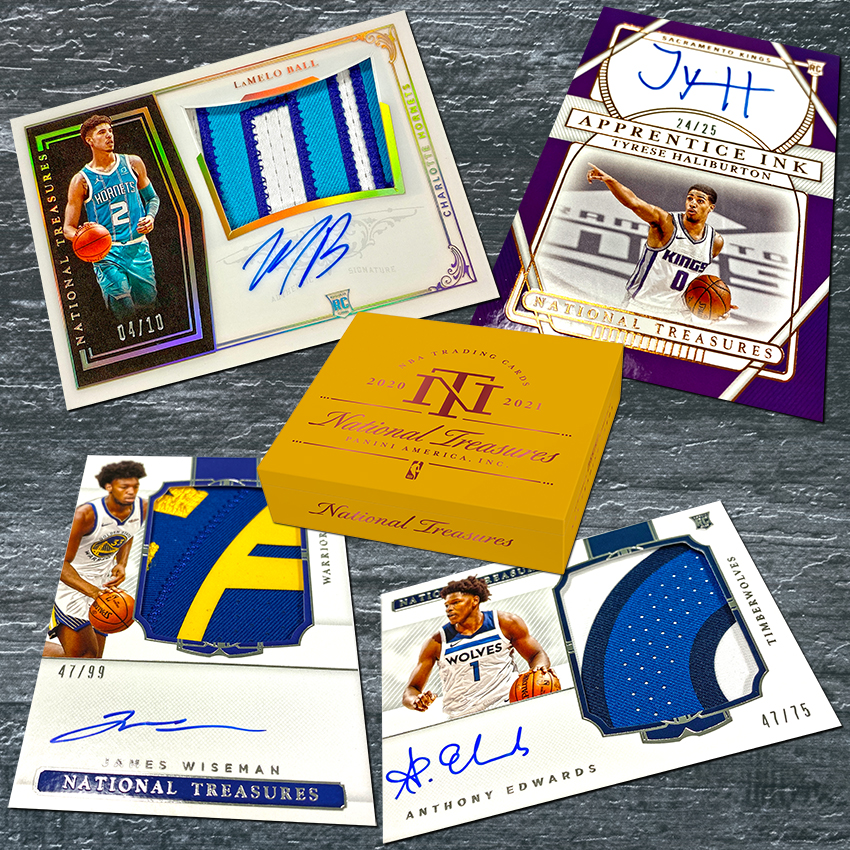 Tomorrow is 2020-21 National Treasures Basketball Release Day and most collectors know what it means when any National Treasures product drops: It's a National collecting holiday of sorts. Make no mistake: There is quite a bit to celebrate tomorrow with one of the most anticipated releases of the year.
Let's start with the obvious: LaMelo Ball's autographs are live in 2020-21 National Treasures Basketball. So, too, are Anthony Edwards', James Wiseman's, Tyrese Haliburton's, Patrick Williams', Aleksej Pokusevski's and more. Those names — and their respective RPAs — will steal most of the headlines surrounding this year's NT, but as usual with this product, there's a lot more to love, too.
On average, each hobby box of 2020-21 National Treasures Basketball (10 cards per box, four boxes per case) will deliver four autographs, four memorabilia cards, one Printing Plate and one Base or Base Parallel. Additional highlights of the product include . . .
Logoman Autographs and Treasured Tags Autographs are back with a fresh, new lineup of top players. Find one-of-a-kind items featuring Charles Barkley, Trae Young, Kevin Garnett and more.
Look for the incredibly unique Personalized autographs of superstar talents.
All new to 2020-21 National Treasures Basketball: Find RPAs of top rookies in the new Crossover 2010 and Crossover 2011 Rookie Patch Autographs set.
Colossal Materials Autographs and Clutch Factor Signatures feature a variety of current players and rookies. Look for Super Prime versions numbered to as low as one.
Enjoy the revealing Quality Control Gallery that follows and stay tuned for additional coverage. 2020-21 National Treasures Basketball will be available at the official online store of Panini America beginning at 10 a.m. CST.