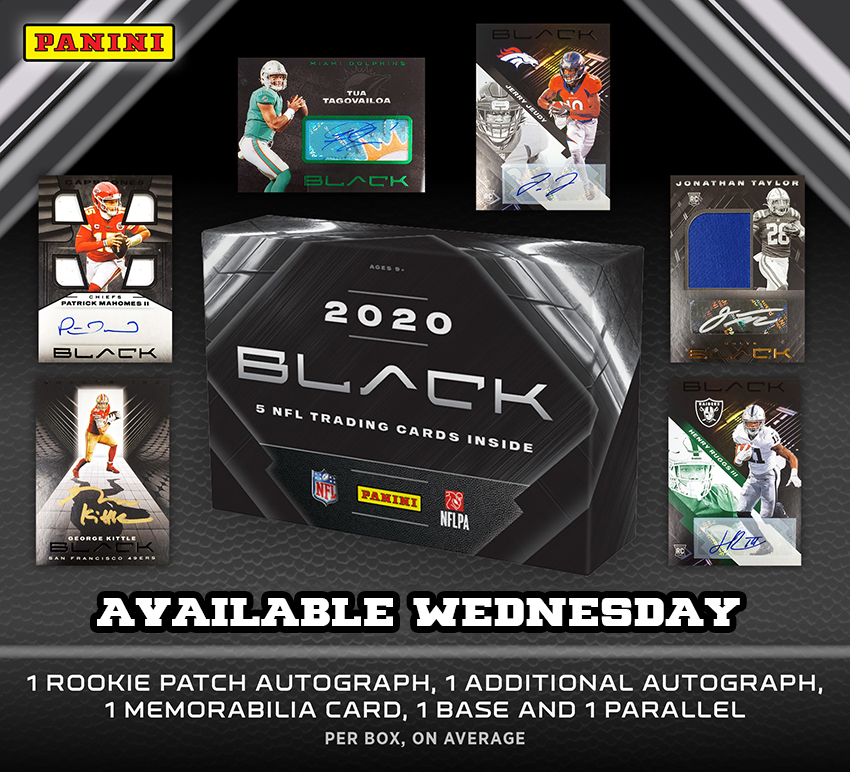 It's deftly designed. It's rich. It's dark. It's steeped in autographs and memorabilia. It's . . . Black. And on Wednesday, it's back. Panini America's 2020 Black Football arrives in hobby shops across North America on Wednesday boasting its trademark big-things-come-in-small-packages configuration that delivers, on average, one Rookie Patch Autograph, one additional autograph, one memorabilia card, one base card and one parallel in every five-card box.
The new-and-improved 2020 edition is loaded with more rookies and more inserts than ever before and also features the new Super Bowl Teammates Dual and Triple Autographs inserts. Look, also, for on-card autographs in the Midnight Signatures, Capstones, Bright Lights Signatures, Storm Signatures and Shadow Ink sets.
Key memorabilia sets in 2020 Black Football include Futuristic, Rookie Influx and Jet Black Materials.
We offer a revealing sneak peek at the product in the Quality Control Gallery that follows. Enjoy the early look and stay tuned for additional coverage.
2020 Black Football will be available at the official online store of Panini America beginning Wednesday at 10 a.m. CST.