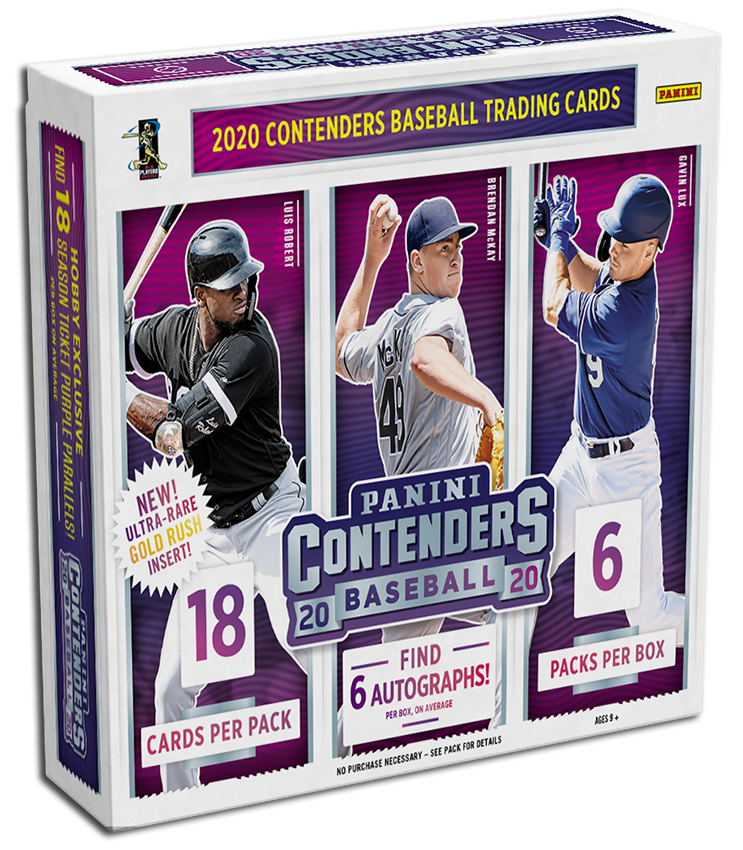 Panini America's penmanship- and rookie-rich 2020 Contenders Baseball arrives in hobby shops across North America on Friday boasting a tried-and-true recipe that's been fanning collecting flames for years. Featuring a preponderance of hard-signed autographs and a checklist brimming with some of the top rookies and prospects in the game, 2020 Contenders Baseball is primed to generate heat once again this season.
On average, each hobby box (18 cards per pack, six packs per box, 12 boxes per case) will deliver six autographs, 18 Purple Season Tickets and one numbered parallel.
The highlights of the product are many and include . . .
Autographs from the top 2020 draft picks in Draft Tickets.
Multiple opportunities to find rookie content in Rookie Round Up Autographs, Rookie Ticket, ROY Contenders Autographs and more.
Retro 1998 and Retro 1999 Rookie Tickets will pair this season's top rookies with a couple of timeless Contenders designs.
Insert sets like Future Stars, Potential and Up & Coming give collectors a glimpse at baseball's future superstars.
We offer a deep dive into this year's release in the Quality Control Gallery that follows. Enjoy the sneak peek and stay tuned for additional coverage.
2020 Contenders Baseball will be available at the official online store of Panini America beginning Friday at 12 p.m. CST.