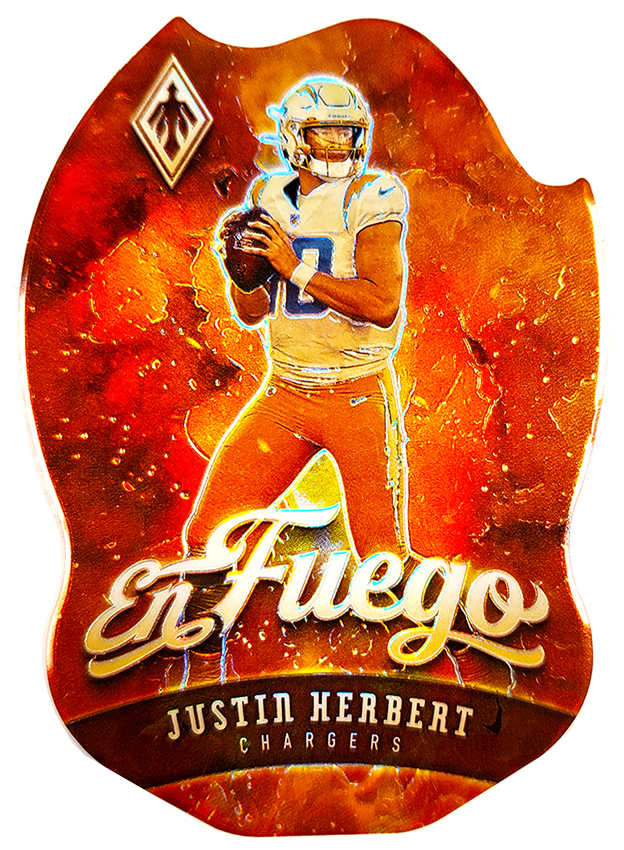 In a relatively short amount of time, Panini America's Phoenix Football franchise has developed a penchant for producing some of the shiniest, most fancily finished football cards on the market. But one quick glimpse at the bells and whistles that have been added for 2020 might just make the newest iteration the fastest-rising Phoenix yet.
Indeed, 2020 Phoenix Football has added some aesthetically awesome new designs and enhancements — most notably one-per-inner-case chase inserts such as En Fuego, Phoenician and Regeneration. The product also delivers some of the most striking RPAs of the season so far. The new Fire & Ice parallel places Phoenix designs on popular Cracked Ice technology and the new Star Signs autographs is visually stunning.
On average, each hobby box (five cards per pack, 12 packs per box, eight boxes per inner case, 16 boxes per master case) will deliver two autographs (including one Rookie Jersey Auto), one memorabilia card, two Silvers (one base, one rookie), 12 numbered cards (eight base/rookies and four inserts) and one Color Burst (base or rookie).
We provide a deep dive into 2020 Phoenix Football in the Quality Control Gallery that follows. Enjoy the sneak peek and stay tuned for additional coverage.
2020 Phoenix Football will be available at the official online store of Panini America beginning Friday at 10 a.m. CST.