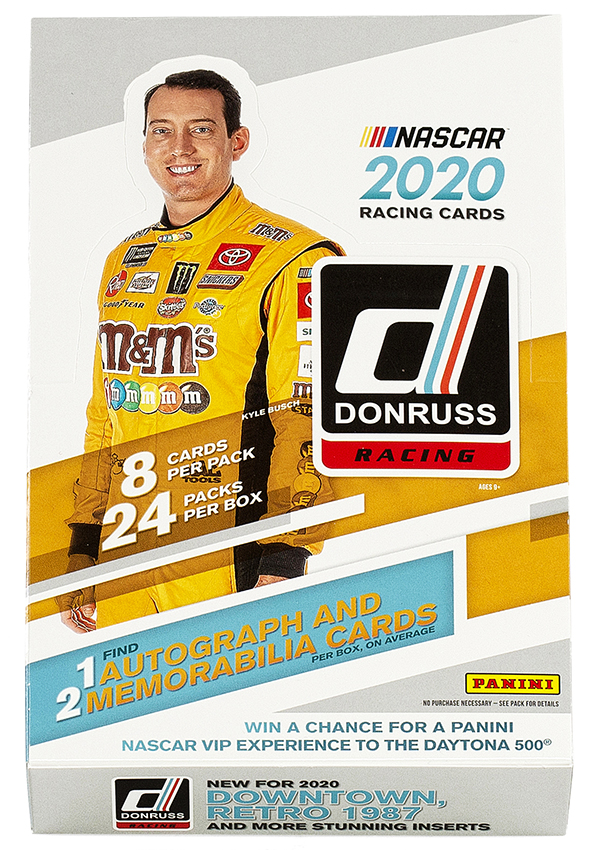 The racing rubber hits the road in earnest next Sunday at historic Daytona International Speedway when the green flag drops on the 2020 Daytona 500. Luckily, NASCAR collectors won't have to wait that long to start their season. That begins tomorrow in hobby shops across North America with the release of the flagship 2020 Donruss NASCAR Racing.
To be sure, the product has a lot to offer fans and collectors with compelling collecting assets that are undeniably Donruss including parallels aplenty, Race Kings, Dominators, Elite Series and Donruss Optic parallels. On average, each hobby box (eight cards per pack, 24 packs per box, 20 boxes per case) will deliver one autograph, two memorabilia cards, 24 base parallels, 24 inserts and 24 Donruss Optic cards.
In the revealing Quality Control Gallery that follows, we offer a deep dive into this year's loaded release. Enjoy the sneak peek and stay tuned to The Knight's Lance for additional coverage. Also, be ready to save your wrappers when the retail version of the product starts hitting shelves in the next few weeks because we've got a retail-exclusive wrapper-redemption program that you won't want to miss — but more on that later.
2020 Donruss NASCAR Racing will be available at the official online store of Panini America beginning Wednesday at 12 p.m. CST.