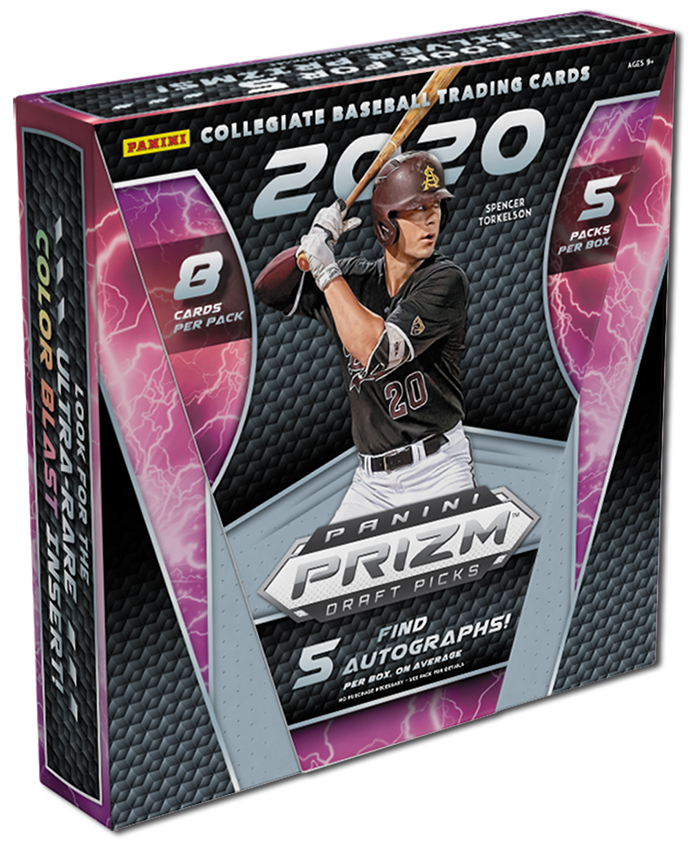 Panini America sure knows how to kickstart a month. Just four days into December, the company has three blockbusters new products launching today: 2020 Prizm Football, 2020 Flawless Baseball and 2020 Prizm Draft Picks Baseball. We've previewed Prizm Football and Flawless Baseball earlier this week. This post will focus on the third one. The dynamic, colorful, potential-packed 2020 Prizm Draft Picks Baseball.
On average, each hobby box (eight cards per pack, five packs per box, 16 boxes per case) will deliver five autographs, two Silver Prizms and five numbered Prizms. The product delivers all of this year's top draft picks and future superstars on the wildly popular Optichrome technology. The highlights of the product are many and include . . .
Multiple hobby-exclusive parallels such as Gold, Gold Vinyl, Power Plaid and more.
Color Blast returns. Hunt for these ultra-rare gems that feature some of the biggest names from this year's draft.
Striking, all-new inserts in Thunderstruck and Power Surge.
We take a deep dive into 2020 Prizm Draft Picks Baseball in the Quality Control Gallery that follows. Enjoy the sneak peek.
2020 Prizm Draft Picks Baseball will be available at the official online store of Panini America beginning today at 2 p.m. CST.