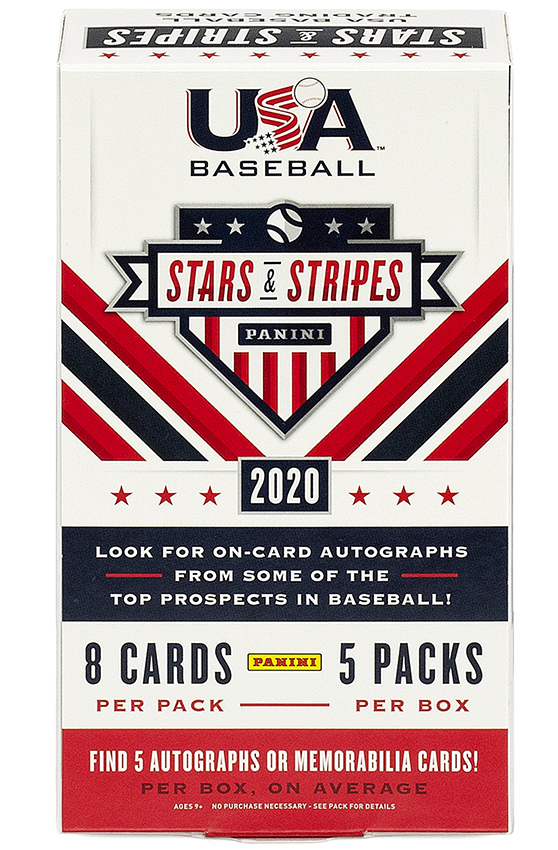 For the better part of the last eight years, Panini America and USA Baseball have worked closely to make the most of the exclusive partnership that began in March of 2012. The resulting teamwork has led to some of the greatest single cards and sets in the history of USA Baseball collecting. Fans and collectors can find nods to USA Baseball in virtually every baseball release Panini America produces — from inserts and subsets in products like Prizm Baseball to the standalone pageantry of Stars & Stripes USA Baseball.
Since it began, Stars & Stripes USA Baseball has succeeded by providing a potent combination of baseball's bright future, USA Baseball's iconic past and undeniable collecting value. That recipe returns in full force with 2020 Stars & Stripes USA Baseball, which releases today in hobby shops across North America.
On average, each hobby box (eight cards per pack, five packs per box, 20 boxes per case) delivers five autograph or memorabilia cards, 30 base cards and five parallels. Headlining elements this year include the hobby-exclusive Chinese Taipei Signatures, Japanese Collegiate All-Stars Signatures, Jumbo Prime parallels, Chinese Taipei Silhouette Signatures Jerseys and Japanese Collegiate All-Stars Silhouettes.
Find on-card autographs of the current Collegiate National Team and 18U National Team stars with rare Blue-, Red- and Green-Ink parallels; for most players, these cards will be the first certified autographs. It's also worth noting that roughly 15 or more players from this product typically get selected in the first round of the June draft.
We offer an extended preview of the 2020 Stars & Stripes USA Baseball in the Quality Control Gallery that follows. Enjoy the imagery and stay tuned for additional coverage.
2020 Stars & Stripes USA Baseball will be available at the official online store of Panini America today beginning at 2 p.m. CST.