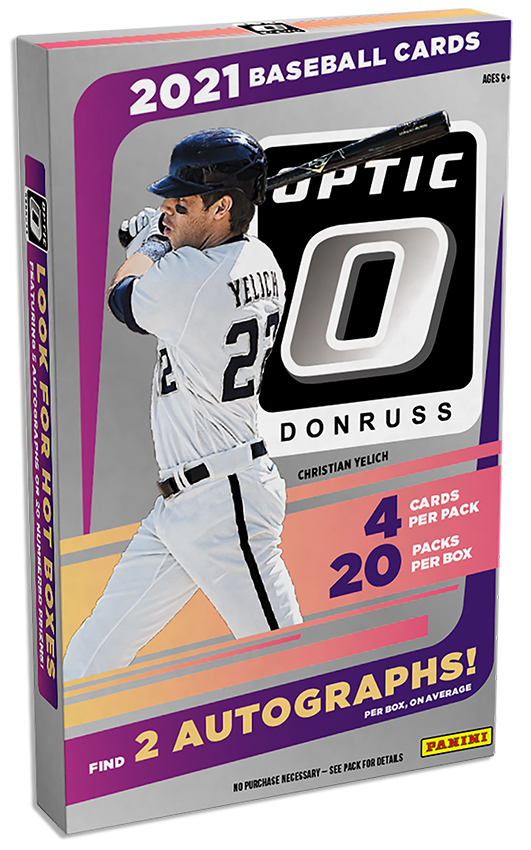 There's simply no denying it: Something borderline magical happens when you accentuate a flagship product like Donruss Baseball with the irresistible charms of Optichrome printing technology. Actually, what technically happens is called "Donruss Optic Baseball." But one trip through the Quality Control Gallery below and you'll feel a little of the magic inside the 2021 edition.
On average, each hobby box of 2021 Donruss Optic Baseball (four cards per pack, 20 packs per box, 12 boxes per case) will deliver two autographs, 10 Prizm parallels and 20 inserts. As with any Donruss Optic release, the tried-and-true inserts collectors came to love in base-brand Donruss take on new life in Donruss Optic. Among the product's many highlights . . .
Find on-card autographs from all the top rookies and prospects
in Rated Rookies Signatures and Rated Prospects Signatures.
Hunt for newly designed insert sets like Lights Out and T-Minus 3…2…1!
Look for today's superstars and fan favorites featured across 17 parallels in the base, Rated Rookies and Diamond Kings sets.
Each hobby case will deliver, on average, two Autograph Hot Boxes (containing five autographs) and two Prizm Hot Boxes (containing 20 numbered parallels).
Enjoy the imagery that follows and stay tuned for additional coverage. 2021 Donruss Optic Baseball will be available at the official online store of Panini America beginning Wednesday at 12 p.m. CST.