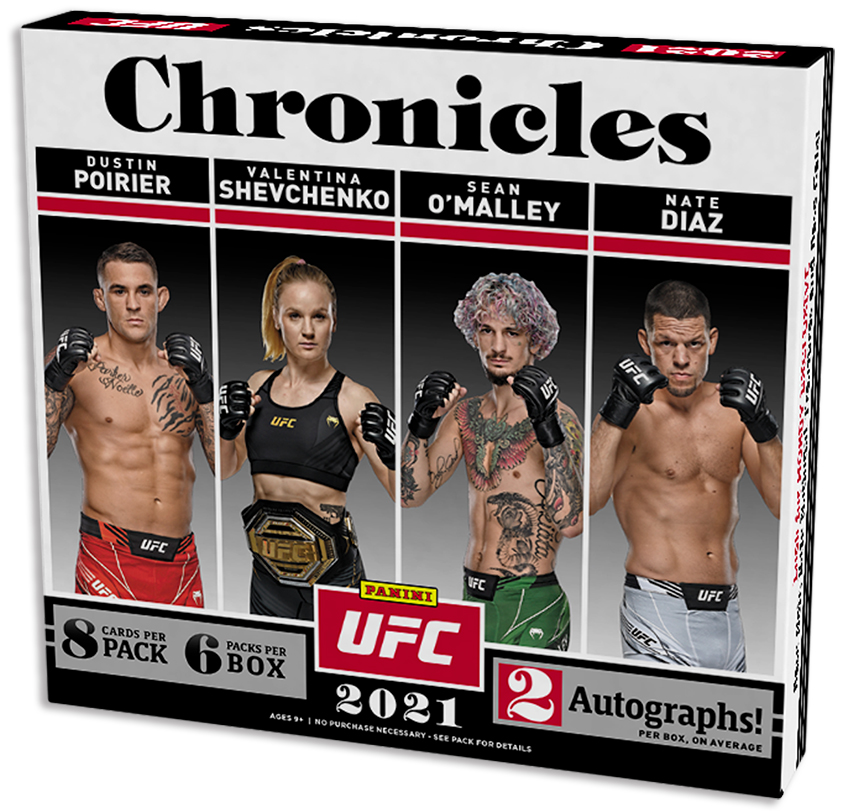 Every UFC product Panini America releases in this first year as the exclusive trading card partner of the UFC is a bona fide history-maker. It started with UFC Prizm, continued with UFC Select, and, today, continues again with the release of 2021 UFC Chronicles. But as you'll see in the massive Quality Control Gallery below, Chronicles is just a little bit different.
Chronicles, as has become customary in one of Panini America's most diverse products across all sports, includes a little bit of everything. Panini America officials unload virtually the entire company portfolio to create Chronicles. Donruss is in there. Prestige is in there. So, too, are Elite, XR, Prestige, Flux, Contenders, Origins, National Treasures, Noir, Optic, Spectra and more.
On average, each hobby box of 2021 UFC Chronicles (eight cards per pack, six packs per box, 12 boxes per case) will deliver two autographs. The product's myriad highlights include . . .
A cornucopia of unique designs from across various Panini America brands; look for two autographs per box, on average.
Find more than 20 different base-set designs from Panini America's product portfolio, including the hobby-exclusive Noir, National Treasures and Gala.
Find jumbo autograph memorabilia cards in Crown Royale Silhouettes
and National Treasures Memorabilia Autographs.
Chase rare Silver Prizm parallels in Base Optic Rated Rookies, Base Crusade, Base Flux, Base Contenders Optic Season Ticket and Base Spectra.
Enjoy the gallery that follows and stay tuned for additional coverage. 2021 UFC Chronicles is available now at the official online store of Panini America.