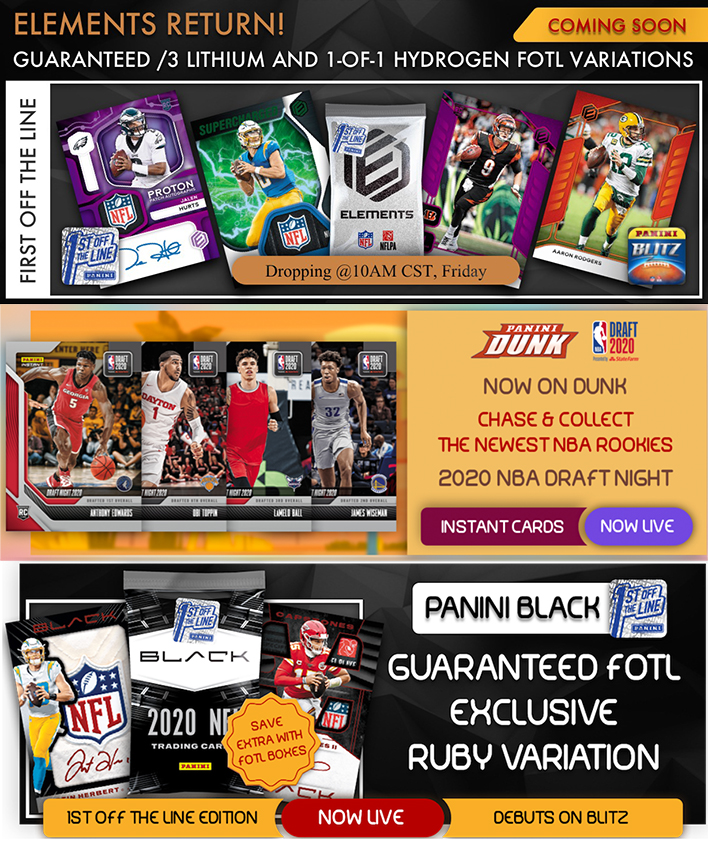 Panini America's 2020 Elements Football arrives in the NFL Blitz Trading Card App this week with exclusive Digital 1st Off The Line packs that are available now before the official in-app Elements release. Each Elements Football FOTL digital pack includes one Lithium Variation limited to just three and one Hydrogen Variation limited to only one.
Collectors can find a wide variety of digital Rookies, Inserts, Signatures and Memorabilia cards in the Elements set that includes 100 veterans and 100 short-printed Rookies. You can also chase inserts from more than 15 different sets.
2020 Black Football FOTL is Available, Too
2020 Black Football also is available in the NFL Blitz Digital Trading Card App with digital FOTL Exclusives. Each FOTL Black pack includes a bonus Ruby or Platinum 1st Off the Line Exclusive Variation limited to either three digital copies or only one.
Panini Instant 2020 NBA Draft RCs Have Arrived
Get your first look at the upcoming 2020 NBA Rookie Class with new NBA Draft Panini Instant digital cards in the NBA Dunk Digital Trading Card App.
This Rookie Class will be sure to impress all season long and collectors can join Dunk in re-experiencing the excitement of Draft Night with digital versions of the popular Panini Instant Draft Night cards. The cards will only be available through December 25.
New Panini Instant digital cards for the 2020-21 NBA Season are coming to Dunk and will feature significant moments, great plays and outstanding performances from throughout the season.