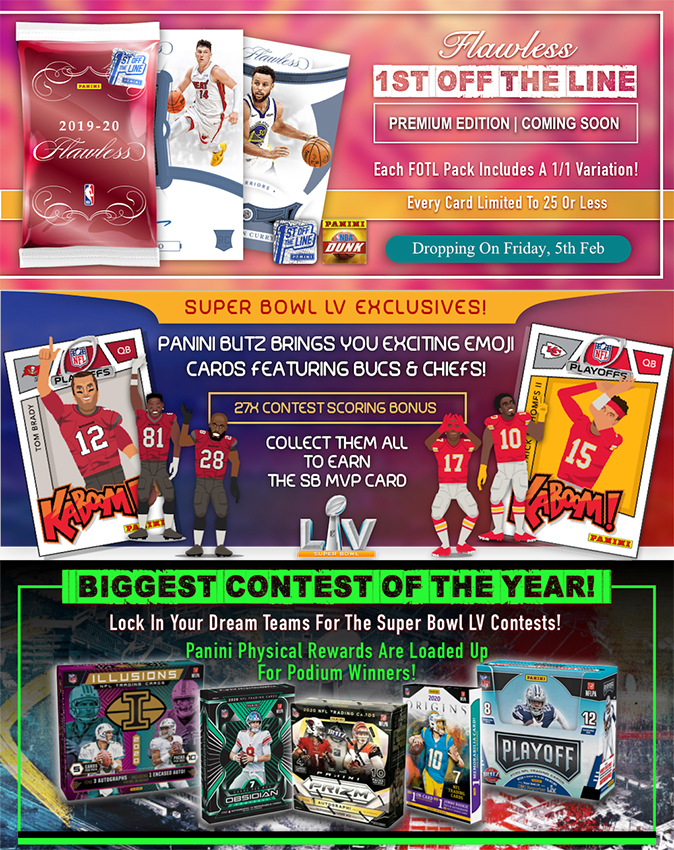 Flawless Basketball has returned to the NBA Dunk Digital Trading Card App! The super-premium NBA brand is now available digitally in Dunk and you can be among the first collectors to get it with the 1st Off The Line packs. The FOTL Flawless Basketball digital packs will be available in limited quantities this weekend before the official Flawless release in the coming days. Each FOTL Flawless Basketball digital pack includes a bonus FOTL-exclusive digital card limited to just one copy each.
Much like the physical brand, every card in Flawless will be extremely limited. Some of the most unique memorabilia and signature digital cards in Dunk can be found within Flawless. Every card in Flawless will be limited to 25 or less.
It's the Biggest Weekend of the Year In Blitz!
Collect all 27x Boosted Animated Emoji Cards, Earn the SB MVP Card
Get ready for Super Bowl Sunday with the newest NFL Blitz Digital Trading Card App animated emoji cards from the Kansas City Chiefs and Tampa Bay Buccaneers. Each team has eight players to collect. Be sure to use these in the Super Bowl premium contests to win one of five Panini Physical Boxes. 
In order to be eligible for the Super Bowl MVP Award card, you must have all the 27X Boosted Chiefs and Bucs cards from the checklist by February 11, 2021 at 10 a.m. CST.
Get a 15% Off Code For Use In Panini Direct
This Super Bowl weekend, we're bringing Blitz users an exclusive deal for the Panini ecommerce app, Panini Direct. All you need to do to get this deal is purchase either the Chiefs or Bucs Emoji Team pack from the Blitz store before February 11 at 10 a.m. CST. (Exclusions apply; one code per user.)
Win One of Five Physical Boxes in Super Bowl Contests
It's the last, but also the biggest, contest week of the year. Peruse your collection and open some packs, because you'll want to have some lineups set this week.
This week, Blitz users have a chance to win a box of Illusions, Origins, Playoff, Obsidian and Prizm. We also have tons of digital prizes including coins, FOTL packs and more. Set your teams now and monitor the contests all game long.
Super Bowl Sales All Weekend!
Now is a crucial time to ensure your Blitz notifications are turned on. We have some great deals coming all weekend long for Super Bowl LV and they may come and go before you realize it.