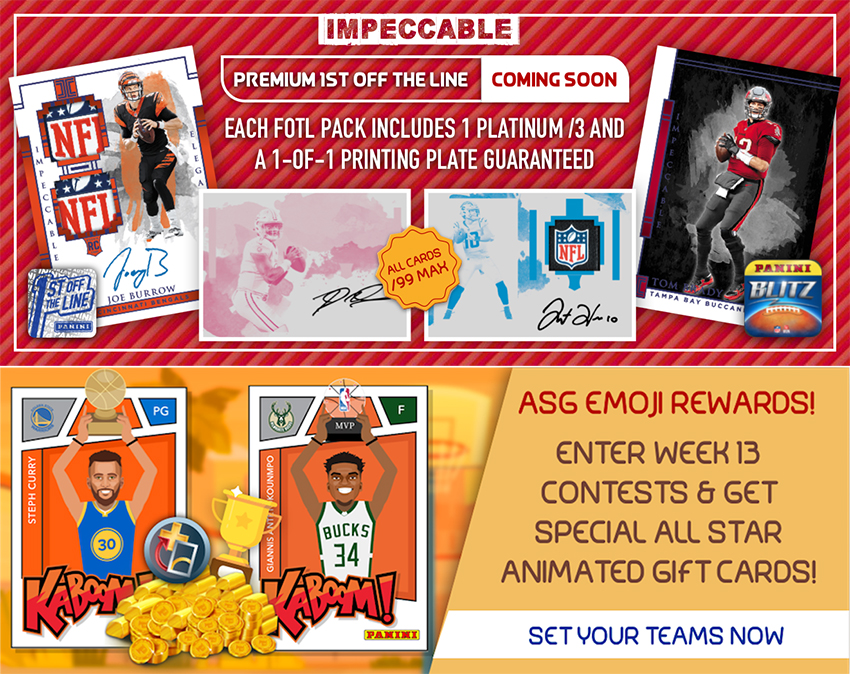 The last few 1st Off The Line releases in Panini America's Digital Trading Card Apps have been selling out in less than 30 minutes, so make sure you have your app fired up and ready to go this week when 2020 Impeccable Football FOTL returns to the NFL Blitz Digital Trading Card App.
Look for two FOTL-exclusive digital cards per pack, a Platinum Variation limited to three and a Digital Printing Plate 1/1. The 2020 Impeccable Football base drop launches next week with 99 veteran and retired players along with more than 20 different inserts, Signature and Memorabilia sets. Every digital card in Impeccable is limited to 99 or less.
NBA Dunk Contests Just Got Better
Contests have been one of the biggest highlights of the NBA Dunk Digital Trading Card App the last few weeks, and the race for the No. 1 slot is always intense. Along with regular weekly prizing, this week we are giving away two exclusive cards that will never to be put in packs. The only ay to receive the Stephen Curry and Giannis Antetokounmpo All-Star Award emojis is by entering contests.
All users who enter any contest will receive the Curry emoji, and all who enter the HoF contest this week will receive the Giannis ASG MVP emoji card.