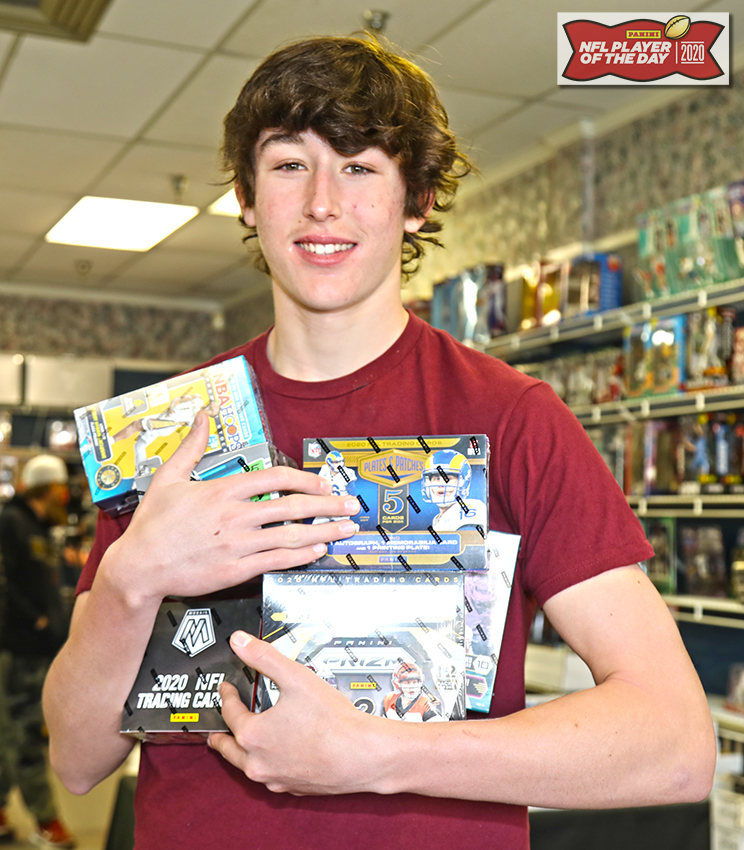 HUNTSVILLE, Ala. — Last Friday, March 12, 16-year-old card collector Tyler Zawacki ventured into Champs Sports Cards in Huntsville, Ala., to pick up some cards. What Zawacki didn't know, of course, was that his father, Panini America and Champs were in cahoots. They conspired to get Tyler into the store to break some very big news: Zawacki was selected from more than 100,000 collectors nationwide as the 2020 Panini NFL Player of the Day National Sweepstakes grand prize winner. 
After shop owner Brooks Bryant surprised Zawacki with the news, he awarded Tyler with a swag bag full of Panini-branded apparel, a few autographed cards and boxes of Panini NFL trading cards including Plates & Patches, Illusions, Mosaic, Absolute and Contenders.
For the past 20-plus years, the Panini NFL Player of the Day hobby shop promotion has awarded collectors with more than two million prizes. And each year, the promotion concludes with one lucky collector spending the day with an NFL player. This typically includes a private party for friends and family and then a free autograph session for the community at the local card shop. But due to COVID-19 and social distancing guidelines, the grand prizes in 2020 and 2021 are being staged virtually.
As part of his grand prize experience, Zawacki and his friends and family will participate in a Zoom call with an NFL player. During the call, they will conduct a Q&A session with the player who will also sign autographs for everyone, including the best customers at Champs, After the Zoom call, Zawacki will break a few more boxes of Panini NFL cards. Additionally, the next time he visits Champs he'll receive a $250 shopping spree for Panini products.
"We are excited to create this special experience for Tyler and his friends and family," said Jason Howarth, Vice President of Marketing for Panini America. "Due to COVID-19 and social-distancing guidelines, we staged numerous events over the past year with collectors and athletes and have been surprised with how enjoyable it's been for everyone. We know Tyler, his friends and family will enjoy this memorable experience."
A junior at Buckhorn High School in Huntsville, Ala., Zawacki is the starting quarterback for the Buckhorn Bucks, a member of the Bucks' varsity baseball team and he plays travel baseball. On the diamond, he is an accomplished hitter with 19 extra base hits in 19 games during summer travel games; as a pitcher, he throws in the high 80s.
Zawacki's love of trading cards started when he was much younger. On Christmas morning, he would often find complete sets under the tree and packs of cards in his and his brother's stockings. When he was 12, he found Huntsville's Champs and would always tag along on errands that were near the shop in hopes there would be time for him to visit the store. He began to watch live streams of card breaks and card reviews on various social media platforms.
On every family trip, Zawacki stops at local card shops along the way and, before the pandemic, attended card shows to meet other collectors in the Southeast. He's hoping to attend the National Sports Collectors Convention in Chicago this summer to meet some of the new social-media friends he has made in the card collecting world. He says he hopes to continue playing baseball at the college level and study business. Eventually, his dream is to have a card store of his own – just like Champs.
The Panini NFL Player of the Day promotion included more than 600 hobby shops. This marks the 20th consecutive year that the NFL Player of the Day program has given an NFL card collector the chance to spend the day with an NFL player. Past players have included: D'Andre Swift, Matt Breida, Patrick Mahomes II, K.J. Wright, Jeremy Langford, Terrence West, Antonio Brown, Prince Amukamara, Beanie Wells, Pierre Thomas, Patrick Crayton, Steve Slaton, AJ Feely, Maurice Jones-Drew, Chris Simms, Rudi Johnson, Donald Driver, Ed McCaffrey, Chad Pennington and Frank Wycheck.
Stay tuned in the coming weeks for complete coverage of Zawacki's grand-prize event. But until then, enjoy a few highlights of Zawacki's pandemic passing prowess . . .