Say this about New York collector Daniel Rovin: The guy sure knows how to command your attention.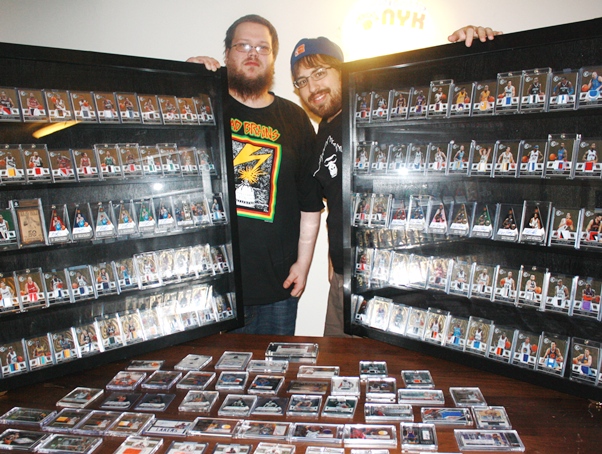 Say this about New York collector Daniel Rovin: The guy sure knows how to command your attention.
Among the most arresting collecting revelations Rovin (on the right in the above image) detailed in his first email to me on May 2? He'd just completed the Kevin Durant Panini's Choice Awards insert from 2011-12 Preferred Basketball, the crowning complement to his completed sets for Walt Frazier, Nate Archibald and Bill Walton. Perhaps even more impressive, though, was the fact that he had just landed the 101st and final card to finish the Gold Patch insert from 2010-11 Totally Certified Basketball.

In subsequent emails, Rovin, a die-hard New York Knicks fan, shared many interesting details of his collection, including the fact that he pulled the Durant Black 1/1 Panini's Choice Award autograph before deciding to build that set, and the fact that the final card to complete his Gold Patch set — the Rajon Rondo — came all the way from France. The Kobe Bryant and Derrick Rose cards in that set came all the way from Australia.
Check out other details below, then stay tuned for a stunning gallery of Rovin's resplendent stash.
Panini America Personal Collection Spotlight
Who: Daniel Rovin, New York City
What: Panini America NBA trading cards
"Austin White (on the left side of the picture) and I have been collecting high-end basketball cards for a couple of years now. I had always been into collecting cards but wasn't aware of the extent card collecting had come to. But when we both got back into collecting a few years ago, it was only a matter of time before we made busting cases a regular occurrence. Basically, we've been collecting old-school Knicks players — most notably Walt Frazier. But recently I've been concentrating more on sets, hence the somewhat-ridiculous 2010-11 Totally Certified Basketball Gold Patch set and the 2011-12 Preferred Basketball Panini's Choice Award color spectrums.
"We are both huge basketball fans, and we own a music recording studio — GSI Studios — where we record our music and other people's music. I play saxophone and other instruments and Austin plays bass; we are in a few bands and are recording our debut album right now at our studio. Austin and I are 24 and 23, respectively, and live in Manhattan. We play music, collect cards, and go to the Garden to watch the Knicks — and that's about it. I buy single cards too, obviously. But to chase sets I mostly like breaking cases, where the majority of my high-end cards come from. I am most anticipating 2011-12 Gold Standard Basketball from this year's sets. I busted a lot of it last year and if the new basketball is anything like 2011 Gold Standard Football, it should be awesome.
"I've always had tremendous luck ever since I started getting back into collecting and busting Panini America product. You guys make some beauties."
Thanks for sharing, Daniel. Speaking of beauties, what follows is a comprehensive gallery detailing just some of the gems from the Rovin-White collection. Enjoy.