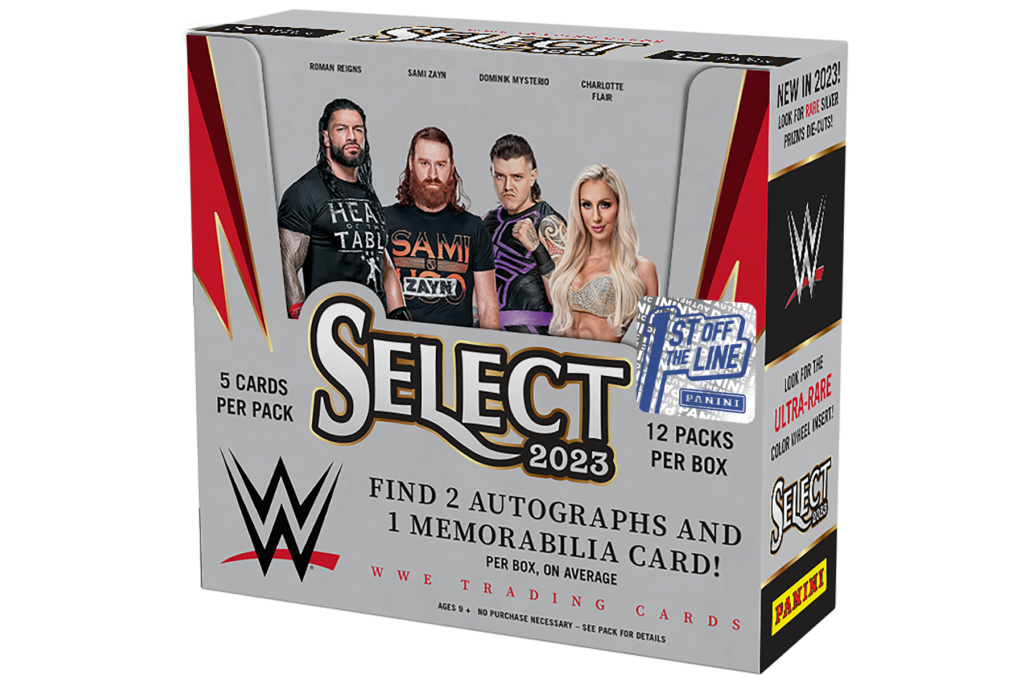 Imagine the excitement of Roman Reigns delivering his devastating Spear in front of a sold-out stadium at WrestleMania. Or "The American Nightmare" Cody Rhodes delivering his Cross Rhodes to win an epic Hell in a Cell Match.
Roll all those incredible sports entertainment moments into one, and that's a taste of what you'll get with Panini's amazing 2023 WWE Select Hobby boxes and our ultra-exclusive First Off the Line product, available July 18, 2023.
When you break open a Hobby box, it lands with the power of Undertaker's awesome Tombstone. Featuring the greatest Superstars you see every week on Raw, SmackDown and NXT as well as the most legendary names of the past, each WWE Select Hobby box on average features two Autographs, one Memorabilia card, 12 Base parallels, and nine inserts.
You don't need to be "Million Dollar Man" Ted DiBiase to enjoy Panini's First Off the Line collection. With First Off the Line, you get everything that's guaranteed in our Hobby boxes. But there's more! As an added bonus, First Off the Line also includes one must-have Mojo parallel. Mojo parallels to 7, making this one of our most exclusive WWE products.
Just like WWE innovates with memorable events like Money in the Bank and Elimination Chamber, Panini always has something new to offer true collectors. In 2023 WWE Select Hobby boxes and First off the Line, keep an eye out for brand-new Color Wheel inserts and our dazzling new Silver Prizm Die Cuts.
So whether your favorites are the current top-tier Superstars from Reigns to Rhodes to Becky Lynch to Rhea Ripley, or the most memorable WWE legends such as "Stone Cold" Steve Austin and The Rock, or if you have an eye on the up-and-coming future Superstars like those who compete in NXT, there's something in WWE Select Hobby and First Off the Line for everyone. Get yours today!
Card Gallery Display is FOTL cards and images are subject to change.