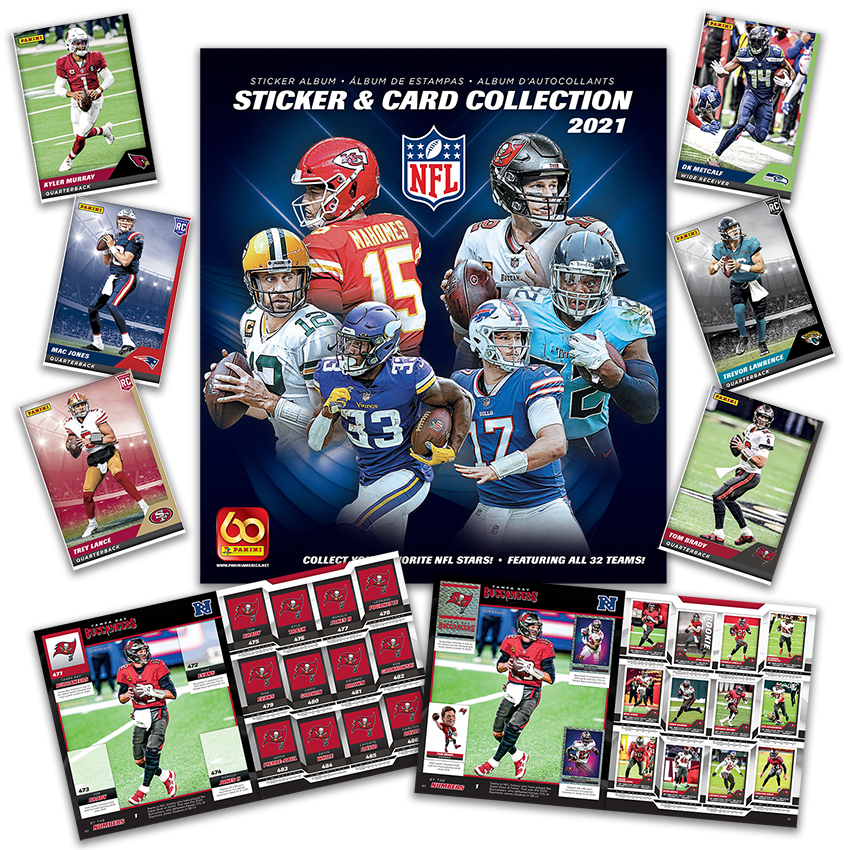 Week 5 of the 2021 NFL season kicked off last night with a juicy NFC West battle between the Los Angeles Rams and Seattle Seahawks and if it hasn't been abundantly obvious to you during the first month of the season, the country is once again in its customary football frenzy. We do our best here at Panini America to fan the flames of that frenzy with some of the sweetest trading card products on the planet. But for the purposes of this particular post, we're going to get into something that's just a little more . . . sticky.
Indeed, Panini America's Official 2021 NFL Sticker & Card Collection deserves its time in the spotlight, too. Once again this year, the popular annual collection includes bona fide trading cards to accompany the sticker collection. If you've yet to immerse yourself in the brilliant stickiness of the product, well, get ready. You're about to.
Here's what you need to know about this year's edition:
The official and exclusive sticker and card collection of the NFL.
Each of the NFL's 32 teams is featured on its own two-page color spread, where collectors can place the stickers of the team's main players.
Each Team Spread includes 16 stickers.

Look for one special "big-head" style player illustration sticker per team.

Pages and stickers dedicated to the 2020 NFL Playoffs and Super Bowl LV.
One page highlighting notable players selected in the 2021 NFL Draft.
One page showcasing the Pro Football Hall of Fame's Class of 2021.
The trading card set includes 68 of the best NFL veterans and 32 of the most collectible 2021 rookies.
Available now at retailers nationwide, including Walmart, Target, and select hobby shops.
Album Content: 72 color pages and a pop-out trading card storage box
Sticker Total: 561 (100 Silver Foil).
Card Total: 100 (Several different types of parallel cards on foil cardstock. Some parallel cards are serial numbered.)

Sticker and Card Packet SRP: $1.50

Packet Configuration: 5 stickers and 1 card
Box Configuration: 50 packets
Case Configuration: 20 boxes
Enjoy the gallery that follows and stay tuned for additional information. As mentioned above, you can access the complete checklist here.