Voting begins for the Week 12 Pepsi NFL Rookie of the Week . . .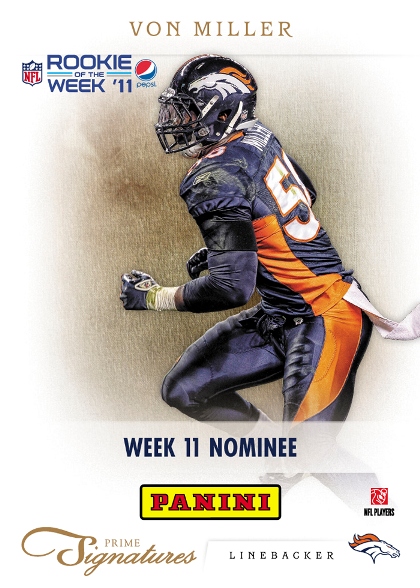 Want to know who gets more excited than Panini America and NFL collectors about NFL Rookie performances each week during the season? Pepsi with its NFL Rookie of the Week initiative. So it comes as no surprise after months of behind-the-scenes work that Panini America and Pepsi would come together to help promote Pepsi Rookie of the Week voting and Panini America NFL Rookie trading cards.
The payoff for collectors and NFL fans everywhere are some pretty sweet virtual cards that will be highlighted on NFL.com each week in a special Pepsi Rookie of the Week gallery, across social media platforms and the NFL.com rookies voting page. Each week Panini will feature the five Pepsi Rookie of the Week Nominees in a different Panini football card design – stay tuned to the Knights Lance, our Panini America Facebook page and hobby shops to find out about new Panini designs and what weeks they will be incorporated into Pepsi Rookie of the Week Nominees during the NFL regular season.
Now for the fun stuff . . .
Vote for the NFL Pepsi Rookie of the Week each week during the NFL regular season. Then share the image of the Pepsi Rookie of the Week Nominee you voted for on your Facebook page. In addition, post the image on the Panini America Facebook page (after you "like" us if you haven't already) or simply comment with the nominee you voted for. On Twitter, use the hashtag #PepsiROW and mention @PaniniAmerica to Tweet out the card image of the rookie you voted for. For doing those things, you'll be eligible to win prizes throughout the season. Oh, and there just might be a special payoff at the end of the season.
Now for your Pepsi NFL Rookie of the Week nominees for Week 11:
Miami Dolphins fullback Charles Clay caught four passes for 69 yards and a score in the Dolphins' 35-8 victory over the Buffalo Bills.
Carolina Panthers defensive end Thomas Keiser, signed off the practice squad two weeks ago, had five tackles — all solo — and two sacks in the Panthers' 49-35 loss to the Detroit Lions.
Tennessee Titans quarterback Jake Locker completed 9 of 19 passes for 140 yards and two touchdowns in under two quarters of play in the Titans' 23-17 loss to the Atlanta Falcons. Locker also added 11 yards on the ground on one carry.
Denver Broncos linebacker Von Miller recorded 10 tackles, including nine solo stops, three tackles for a loss and two sacks in the Broncos' 17-13 victory over the New York Jets. He also added a forced fumble, four quarterback hits and one pass defensed.
Baltimore Ravens wide receiver Torrey Smith caught six passes for 165 yards and one touchdown in the Ravens' 31-24 win over the Cincinnati Bengals.